White Nokia N9 Coming Later This Year
In London at Nokia World, Nokia is announcing that the MeeGo-powered Nokia N9 smartphone will be available in white later this year. Explaining that there were some obstacles in manufacturing the white color, Nokia says that white will be arriving later this year instead of at launch.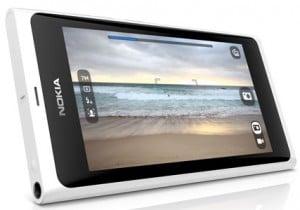 Like the black Nokia N9 available currently, the white Nokia N9 will come in 16 or 64 GB memory configurations. The white shade will be a glossy shade, rather than a matte finish like the colors available today.
Nokia did not explain what those manufacturing hurdles are, but another smartphone company also had similar problems handling the white variant of its smartphone last year. When the iPhone 4 launches last summer, Apple, too, cited manufacturing obstacles as the reason behind the delay of debuting a white iPhone 4 model to consumers.
The Nokia N9 is not launching in the U.S. market. That said, the design of the Nokia N9 is used as the inspiration behind Nokia's debut Lumia 800 Windows Phone Mango smartphone.
Via: Mobileburn

As an Amazon Associate I earn from qualifying purchases.