White PS4 Release Date & Details Revealed
Sony, maker of the PS4 had a lot of hardware news to share at its press conference during E3 2014. It talked at length about the PlayStation TV and how it hopes to bring PlayStation games to users for even less. It also shocked the audience when it revealed the new white PS4, a pearl colored limited edition console with a matching controller. Unfortunately, getting that white PS4 won't be as simple as some might have hoped.
That's because as announced on the PlayStation Blog, the white PS4 isn't some new model that'll sit alongside other consoles on store shelves for an extended period of time. Instead, the white PS4 is the console that users will get if they purchase a special Destiny Bundle.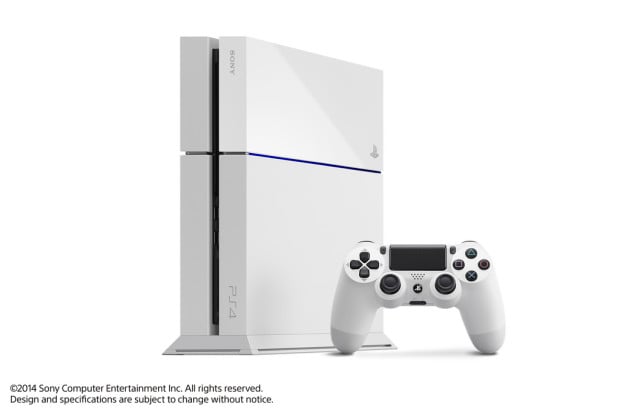 The white coloring isn't the only reason you'd want the console. Sony says that when the bundle arrives it'll also include an entire free month of its PlayStation Plus subscription service so that users can play online. That free month of service, the copy of Destiny and the white PS4 will set potential buyers back $449. That's roughly $20 less than if a new console buyer purchases all of those things separately, but $50 higher than the cost of a basic black PS4 without a game. A regular PS4 starts at $399 today.
Sony is referring to the color as Glacier White and pictures taken of the console do indicate that it has a bit of a glossy sheen that makes the color pop even more than the black PS4 does today.
Unfortunately for those excited for the White PS4 and Destiny, users who want to play the game when it arrives on store shelves aren't necessarily better of buying it instead of a matte PS4. Sony hasn't confirmed an exact release date for the Destiny bundle, however it has confirmed that it won't be arriving on store shelves until September. That means users who are considering buying a PS4 now should hold off until Destiny's release. Of course, truly dedicated fans can just purchase a used PS4 from GameStop and then trade that console in towards the Destiny bundle when it becomes available in September.
On the other hand, it's not really a loss for those who don't wait for the Destiny bundle to arrive. Other than the white glossy casing and matching two-tone DualShock controller, there's nothing functionally different from the PS4 bundle that Sony already sells worldwide. That means that Destiny bundle buyers can expect this console to have the same 500GB of on-board storage as the regular PS4 has.
As for the game itself, saying Destiny is a big deal isn't stretching the truth. Recent figures point to the game costing $500 million to produce. By comparison the world's best-selling game of all time, last year's Grand Theft Auto V, reportedly only cost $300 million to make.
The game is being published by Activision, which is the same publisher who produces the Call of Duty franchise. Detailed videos developer Bungie has been showing off all week pretty much paint Destiny as a first person shooter with role-playing mechanics, persistent worlds and a never-before-seen level of character customization. At Monday's briefing Sony and Bungie announced that PS4 users would be the first to get in on the alpha testing of the game. That testing is scheduled to start tomorrow, June 12th at noon. The developer also announced that PlayStation players can expect a wider Beta to arrive on July 17th.
Read: How to Play the Best Xbox One & PS4 Games Early
To be clear, Sony is using Destiny to market its console directly to players who are on the fence about picking up the Xbox One or the PS4. Users who purchase a PS4 will get access to the beta and special downloadable content but Xbox One owners will be able to play Destiny too.
In fact, Destiny is expected to launch on the Xbox 360 and PS3 this September as well.

As an Amazon Associate I earn from qualifying purchases.