White Xbox One Reportedly Coming in March, More Versions in the Fall
A heep of leaks and rumors have fallen from the Xbox One skies, with reports of a white Xbox One hitting the market in March, according to a forum poster on NeoGAF and also confirmed by The Verge. We've known that a white Xbox One has existed for a while, but only a few have been made so far for auctioning off for charity.
Others are saying that a limited edition 1TB version of Microsoft's latest console will also be coming this year in November, as well as a lower-priced Xbox One that could cost as little as $399, thanks to the possibility of an Xbox One "without an optical disc drive." The Verge says that they can confirm that Microsoft has been at least testing Xbox One consoles without the disc drive.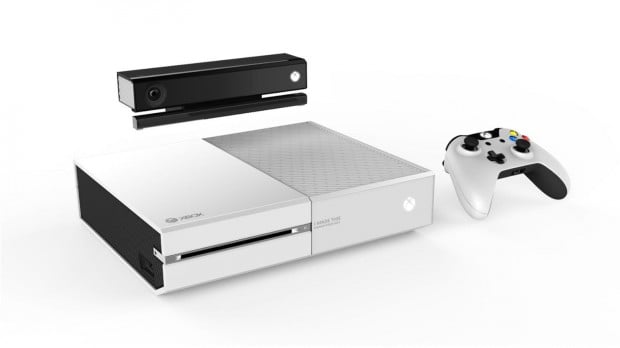 We've been treated to a leaked image that reveals a Titanfall edition Xbox One, complete with a themed skin and the Titanfall game included. We're not sure when to expect this special edition console to launch, but we're guessing it'll release alongside the game's launch in the near future. We've already been treated with leaked images of the Titanfall-themed Xbox One controller, so it's certainly no surprise to see the entire console finally pop up on the internet.
Furthermore, it seems that a White Xbox One bundle may launch in October along with the release of Sunset Overdrive. Included in the bundle is said to be "a fancy ass controller," whatever that means.
Of course, we would take these rumors with a big grain of salt until we know that it's official, but the leaks sure do paint a pretty realistic picture. Plus, we already know that a white Xbox One console exists, so it's really only a matter of time before we see finally hit the public.