Who got a Blot? The 5th Annual Life on the Wicked Stage Ink Blots Awarded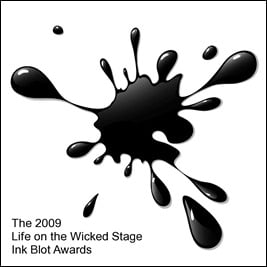 As we march into the holiday season, it's time again for festivities, gift-buying stress, flu shots, and, of course, the highly prestigious Ink Blot awards. Our very own Warner Crocker is into the fifth year of his Life on the Wicked Stage Ink Blot Awards. The "Blotties" as I call them (every good award needs a nickname) recognize the best (and worst) in the Tablet PC and blogging communities, as well as throughout our shared culture. If you're interested in the high and low spots of the past year, this is the list to read. A few mobile tech highlights:
Best Tablet PC With Windows 7 and Touch: Lenovo X200T
Best Tablet PC Screw Up of the Year: Dell for Not Having Drivers Ready for the Only Tablet PC with Capacitive Digitizer When Windows 7 Released.
Best Excuse for Best Tablet PC Screw Up: Dell for saying The Latitude XT was legacy hardware
Best Platform Agnostic Sync Software: DropBox
Lot more where that came from, including "Best New Mobile Solution of the Year," "The I Won't Give up on MIDs Award", and "Best We Have No Idea What Tablets Are or What They Should Be". Be especially sure to check out who is named "Best Tablet PC Blogger." Not naming any names, but this guy added a tablet to his Tablet PC.
The awards also mark the fifth year of Warner's personal blog, which he maintains on an amazingly consistent basis in addition to his duties here. That's like a thousand in blog years. If I were handing out Blotties, I'd give Warner the "I CAN hold time in a bottle" award for somehow having the chronal capacity to do all this for so long on top of his hefty professional and personal concerns. I don't know where he finds the time, but I guess that's why he's the man handing out the awards. Congratulations and thanks for fighting the never-ending battle these past five years, my friend. Looking forward to the next five.

As an Amazon Associate I earn from qualifying purchases.