Who is Time Cook? A Look at the Man Behind the iPhone Announcement
With Apple's iPhone announcement being hours away, we wanted to take a quick look at Apple's new CEO Tim Cook who's believed to be unveiling the next iPhone at Apple's Cupertino, California campus. Does Cook, a man who's responsible for streamlining Apple's operations and helping to make Apple more profitable, have the foresight needed to forecast trends and predict consumer tastes?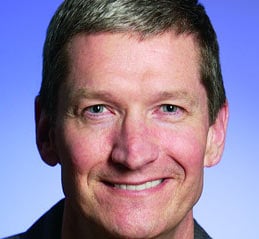 In his 2010 commencement address at his alma mater, Auburn University, where he had earned a B.S. in industrial engineering in 1982, said that intuition coupled with preparation and hard work are the keys to success. For Apple's new permanent CEO, Cook will not only have large shoes to fill as he replaces Apple founder and polished public speaker Steve Jobs at the helm of one of the world's most popular brands, but the iPhone announcement will be his first official product unveiling in his new permanent role and a test to see if he has the intuition can make Apple many more billions of dollars in a time of a struggling worldwide economy.
As to preparation and hard work, the other elements of success as defined by the man himself, Cook's professional resume speaks for itself.
Armed with an MBA from Duke University, Cook has spent much of his professional career in technology and computing. Cook spent 12 years at IBM–back when IBM still made computers before selling off its PC group to Lenovo–as Director of North American Fulfillment before joining Intelligent Electronics as COO. Cook later joined Compaq as VP for Corporate Materials for six months before Steve Jobs recruited him to join Apple as Sr. Vice President for Worldwide Operations.
In operations, Cook had helped streamlined Apple at a time when the company was losing market share and suffering huge losses. His efforts helped Apple move to being primarily a software company, rather than a hardware company, by closing down warehouses and factories. It's Apple's huge investments with its supply chains and partner manufacturers–like Foxconn–that gives the company an edge, and that effort can be credited to Cook. Cook can also be credited for Apple's transition from Power PC chips in its desktop and laptop products to Intel-powered x86 architecture processors.
It is believed that Apple's huge bet on the flash memory market for the iPod market, was led in large part by Cook, and most recently Cook hinted that Apple may have hedged major bets on major strategic supplies for the company's mobile products, which includes the iPod Touch, iPhone, and iPad. Cook was promoted to COO at Apple in 2007.
Prior to becoming permanent CEO this summer, Cook had been interim CEO at Apple for several months in 2004 and 2009 when Steve jobs took medical leave.
With the iPhone 4S or iPhone 5 announcement, Cook will define his role as CEO at Apple to the public. The product(s) may have taken life under Steve Jobs, but they will be born and introduced into the world by Tim Cook. Can Cook convince the world that his intuition in mobile, a space where Apple has succeeded against all odds starting with the iPod, be correct?

As an Amazon Associate I earn from qualifying purchases.