Who Will Take Bill Gates' Role As A Champion Of The Tablet PC?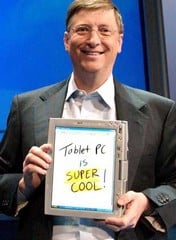 Bill Gates has been one of the Tablet PCs biggest champions. He constantly mentions Tablet PCs in his talks and presentations and even in today's Channel 9 Video of the announcement about his transition out of the day-to-day he mentioned Tablet PCs (and Search) as two of the technologies that he might continue working on depending on what Ballmer wants him to focus on.
So, will we see another Microsoft leader emerge as a champion of the Tablet PC? Or will that role be left to Bill? Will the platform still have the same support that it obviously has now with his continued influence from the top?
My hunch? Microsoft has invested quite a bit in the platform and even with the continued bumps and grinds that all things Tablet run into I'm guessing we'll see a continued push forward. Stranger things have happened though, so this certainly bears watching. It'll be interesting to parse Ray Ozzie's and other Microsoft key players' statements in the future as to whether or not Tablet PCs continue to be a part of the dialogue.
UPDATE: I see I'm not the only Tableteer thinking along these lines. TDavid has also posted about his thoughts on the matter.