Whoa! BeBook Neo eReader knows pen input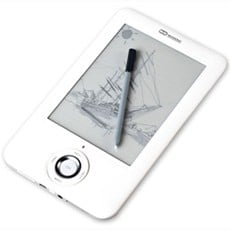 The more I think about it, the more pen input on a eReader makes sense. They're supposed to function like real books. Pens and pencils are used to mark up real books. Ergo, eReaders should have pen input. Clearly the folks at Endless Ideas agree with that logic, as demonstrated by the BeBook Neo, their new eReader with Wacom pen input and wifi connectivity (and presumably a finalized version of the BeBook 2).
The Neo, not to be confused with the One (no, seriously, there is a BeBook One) offers wifi connectivity for access to eBook stores and the Internet, a battery that can deliver 7,000 page turns on a single charge, and a Wacom digitizer for pen input, enabling touchscreen interaction, sketching, note-taking, and annotations. The videos in their press release show pen navigation while surfing the web but unfortunately no inking. I don't imagine it will be much different than what I saw on the enTourage eDGe, which was satisfactory though lacking in pressure sensitivity. Included pen appears to be a Wacom slim, so it's probably compatible with other Wacom Penabled pens.
The epaper display is 6″. I can't find the resolution, but the BeBook One, also 6″, is 800×600. Internal storage is 512MB with an SD card slot supporting up to 16GB. Can't find a format support listing, but the One support list is huge, covering all the usual formats plus image and MP3 (implied by the 3.5mm audio port). Price is listed as $299 (much lower than the converted price on Slashgear) and it's due in-stock February 25th.
Via Slashgear

As an Amazon Associate I earn from qualifying purchases.