Why 20% Of You Should Buy an iPad Warranty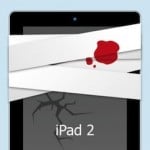 The iPad is a well designed tablet, but it isn't an unbreakable tablet.
According to SquareTrade's iPad reliability study, published this week, the iPad 2 is 3.5 times more likely to break than the original iPad. Part of this is thanks to the thinner glass used on the front of the iPad.
During the first year, 9.8% of iPad 2 owners reported an iPad failure from accidental damage — a number which SquareTrade estimates will grow to 20% by the end of year 2.
(Read: New iPad Warranty & Insurance Options Compared)
As you can see in this video below, and read about in our previous coverage, the iPad 2 display doesn't handle drops very well, despite a low overall rate of  failure compared to other gadgets.
The new iPad has a Retina Display, and is slightly thicker. We don't yet know if the increase in thickness is related to durability in any way, but the weight gain is most likely tied to the bigger battery.
According to the results of SquareTrade's survey, the most common reason for accidental damage is a drop while handling, with a fall from the table as a close second. Watch out if you plan to play iPad games with your cat, as a fraction of the breakages came from pets!
In the infogaphic below, you can get a more visual representation of the iPad 2 vs. the iPad in reliability study.

If you don't take your iPad out of the house a lot, you may not need a warranty, but with stats like this, it is worth considering an iPad warranty or iPad insurance.

As an Amazon Associate I earn from qualifying purchases.