Why a June 2012 iPhone 5 Release Date Makes Sense
The iPhone 5 release date may have just been outed.
If rumors are true Apple will release the iPhone 5 in June, timed with WWDC.
In 2011 Apple missed a summer iPhone launch, and moved the event to October, where the iPhone 4S was introduced along with Siri.
This latest rumor comes from DigiTimes, sharing a source from Daiwa Securities. According to this source, the iPhone 5 will launch at WWDC in June. DigiTimes isn't always reliable, but it would make sense for the iPhone 5 to launch earlier than October.
WWDC is Apple's developer conference, which is expected to take place on June 10-15 this year. If Apple announces the iPhone 5 on June 10th, it could be in stores as soon as June 24th, based on past announcement to release timing.
Why The iPhone 5 Could Launch in June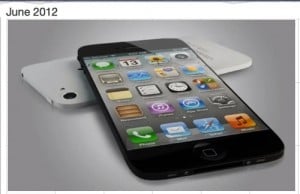 iPhone 4 Owners Ready to Upgrade – There are millions of iPhone 4 buyers who will be able to buy a new phone in June 2012, after using the iPhone 4 for two years. These iPhone owners could wait, but Apple may not want to let Android tempt them, especially with a new Samsung device on the way.
Rabid Fans Will Upgrade Anytime – The segment of Apple buyers who need to have the latest and greatest iPhone, and are willing to stand in line for it, will upgrade early anytime, it doesn't matter if they are due for an early upgrade or not. Most of these buyers will sell their iPhone 4S on eBay or to Gazelle at just the right time to cut the price they pay for an iPhone 5 down to the on contract price.
Steve Jobs' Last iPhone is Ready – According to rumors and analysts, the iPhone 5 was Steve Jobs' last project, one he spent his last months working on during 2011. There's a chance that this phone was essentially finished when Steve Jobs passed, and Apple has had the time to test, refine and bring it to market in time for June.
—
Wil you be upgrading to a new iPhone if it launches in June?

As an Amazon Associate I earn from qualifying purchases.