Why a Sprint iPhone is Essential For All Consumers
Apple will take the stage today to announce the new iPhone, or possibly iPhones. Whether we see the long-awaited iPhone 5 or the iPhone 4S, it's a given that we will have a Sprint iPhone by the end of the day — which is great news for consumers.
Sprint is betting the company, literally, on the iPhone. According to the Wall Street Journal Dan Hesse, CEO of Sprint, has promised to purchase $20 Billion worth of iPhones over the next 4 years.
This deal means that Sprint has approximately 30.5 million iPhones to sell over the next 4 years. This is a huge bet for Sprint, the third place carrier, but also a huge deal for consumers that care about innovation and the price of their monthly wireless bill.
Why a Sprint iPhone is a Win for All Consumers
In third place, Sprint has a tough job to bring in new subscribers, but the carrier plays an important role in keeping the wireless market competitive. Sprint has made many concessions to get the iPhone 5, but the company still has some of the most attractive prices and data plans.
AT&T and Verizon aren't likely to reverse course on the new capped data plans, which lock in many subscribers. If Sprint is able to offer the iPhone 4S or iPhone 5 with unlimited data it stands to keep existing customers and according to our survey, steal subscribers from AT&T. This will become more important as data use grows greatly for all users over the next few years, and likely influence more subscribers as their two-year contracts end.
AT&T is trying to purchase T-Mobile, which would turn wireless into a three-horse race. Yes, there are local carriers like Cincinnati Bell (which leaked iPhone 5 specs), but these carriers lack the power that Sprint has to keep things competitive. Without T-Mobile, it will be up to Sprint to keep the big carriers on their toes with plan pricing and consumer policies.
In short, competition in the wireless space hinges on the third place carrier and the most locked down phone on the market.
What a Sprint iPhone Means for Sprint
There's no mistaking the effect the iPhone has on the company's success. Look at AT&T, which was having trouble attracting customers four years ago, and was able to use the iPhone exclusivity to grow from 56.3 million subscribers in 2007 to 95.5 million in January of 2011 — this on a network that often can't complete voice calls.AT&T also saw profits jump 41% the first year with the iPhone and continues to enjoy high revenue from each customer.
Analysts think that Sprint can sell 1.2 million iPhones this year, but many of those will be existing customers if early surveys of consumers hold true. The good news for Sprint is, iPhone subscribers generate a good deal of revenue. If Sprint can convert feature phone users into iPhone users with data plans, the company will have additional funds to push for a nationwide 4G LTE rollout — which Sprint will need to stay relevant over the next few years.
iPhone 5 News Roundup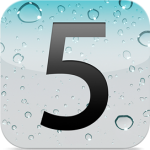 Apple CEO Tim Cook will take the stage at Apple's headquarters today to "talk iPhone." We expect to see at least one new iPhone and the announcement of the Sprint iPhone. This event will also include the iPhone 5 release date.
The event is likely to go on without the appearance of Steve Jobs, who resigned as the CEO of Apple recently. If Apple announces a cheaper iPhone 4S, it could change smartphone pricing for the whole industry.
Tim Cook will also announce the iOS 5 release date. iOS 5 is the software that powers your iPhone, and really what delivers the iPhone experience. iOS 5 promises over 200 new features — but most important, it delivers needed features such as;
Better Notifications
A Better Camera App
PC Free Syncing
Better Browsing
iMessage – for sending messages to other iPhone, iPad and iPod Touch users.
Here's a look at some of the new iOS 5 features in a video from Apple.
https://youtu.be/LLJIef-e-7g
We expect to see a collection of additional features including the Apple Assistant app, which may bring advanced voice control to the new iPhone 4S or iPhone 5 exclusively.

As an Amazon Associate I earn from qualifying purchases.