Why Apple Can't Escape Samsung: Globalization
Though Apple may be sourcing its supplies and parts for its MacBook, iPhone, and iPad from other vendors in an effort to shut out Samsung, its largest and most fierce competitor in the mobile space, Apple cannot escape Samsung's control. The reason? Globalization. Like Apple, which has made strategic decisions and investments in key component suppliers, Samsung is doing the same.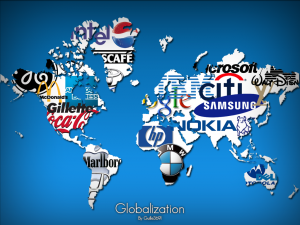 For example, Apple had decided to ditch Samsung displays for the iPhone and iPad in one strategic decision to not support its competitor, but Apple may still be fueling Samsung's coffers in another way. Rumors are swirling that Apple may be choosing Sharp as one display partner to build the forthcoming iPhone 5S's Retina Display. The problem here is that rival Samsung has made an investment in Sharp and the South Korean tech giant now owns 3 percent of Sharp.
And though Apple's late CEO Steve Jobs had vowed thermonuclear war against Android because he believed that Android stole from Apple's labors and innovation, Apple uses screens from LG Display and Japan Display, both of which comprises key Android smartphone-makers with the latter being formed by Sony, Hitachi, and Toshiba.
And while Apple and Samsung are fighting a very public battle in courtrooms in multiple countries across the world, a second battle is ensuing over components and parts in the supply chain. Last week, Reuters had reported that a constrained Samsung cannot meet the demands of its own growing and increasingly popular mobile products. For example, Samsung had to outsource the Galaxy S4's processor to rival chipmaker Qualcomm in several countries as it couldn't produce enough of its own Exynos 5 Octa processor.
This could have adverse effects for Apple as increased competition from Samsung could drive component prices upwards for Apple at a critical time when the U.S. smartphone-maker is rumored to be working on a lower cost product for China.
"Trampling on Apple's supply patch could make life tough for the U.S. firm as it prepares for its next product line-up including a cheaper iPhone for emerging markets such as China," Reuters reported. "Having Samsung muscle in on its suppliers could drive up costs and lead to component bottlenecks, disrupting product launches."
"Samsung going to buy shares (up to 20 percent) in most component suppliers (memory, display etc)," reports famed leakster Eldar Murtazin on Twitter in response to news that Samsung has made an investment into rival smartphone-maker Pantech.
If this is true, Apple will still be dependent on Samsung as Samsung will be either a major investor or key shareholder in important component companies. Apple will have to learn to compete against Samsung while at the same time enriching Samsung's bank accounts.
On the supply side, this may give Samsung a huge advantage in that the investments may make the company the preferred customer. For instance, when supplies are constrained with overwhelming demand, Samsung could get preferential treatment so that it could deliver its products on time and ship ahead of rivals.
Apple was able to do this by investing in key memory suppliers in the 2000s, giving its iPod line cheaper pricing for flash storage and volume production as well so it could out-muscle rivals.
The battle between Apple and Samsung will only get more complex thanks to globalization.

As an Amazon Associate I earn from qualifying purchases.