Why I Returned the Moto 360
There's a growing number of people all asking themselves roughly the same question this week. Pre-orders for the Apple Watch went live today, and suddenly most of us who stay glued to our smartphones are wondering if buying a smartwatch really is a good an idea as it appears to be. Naturally, owners of devices running Google's Android operating are wondering whether that operating system's flagship Android Wear device, the Moto 360, is worth picking up on the eve of the Apple Watch launch.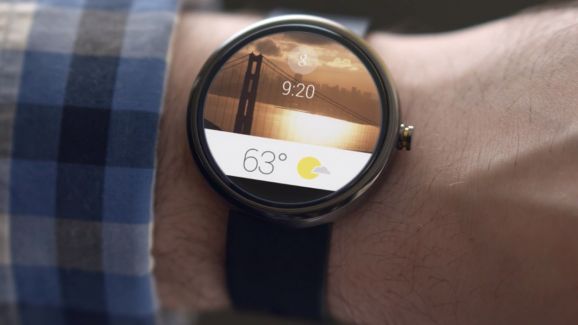 At least, that's what I thought to myself. Late last weekend I used a coupon available to me and picked up a Moto 360 smartwatch with a gray leather band. I spent Friday night tinkering with the new toy, fully expecting to integrate the Moto 360 into my daily life. I spent yesterday afternoon in line at Staples returning the device and not feeling any remorse at all.
Why I Purchased the Moto 360 In the First Place
I wouldn't say I'm a gadget hound, really. Sure, I write about technology for a living, but I mostly manage to stay out of the upgrade craze that engulfs everyone else around me when something new launches. I don't care about what's cutting edge or beastly specifications. There's only two ways to sell me on a new gadget: design and life improvement. It's those two factors that got me to purchase the Moto 360.
Motorola bills the Moto 360 as an ambient way to make it through your day. The idea is pretty simple, by strapping the circular 1.5-inch display to your arm each day, you're giving yourself fewer reasons to pull out your smartphone. The Moto 360 is made for those people who want all-day connectivity, but like it in a more natural feeling package.
I liked the idea of never having to take the Moto X 2014 off its charger to see what new emails I had waiting or what friend had just said something insane in a Facebook message to me. I'm not a big fan of Google Now, but I liked the idea of speaking into my watch to start music playback when I'm in the car. I envisioned this terrific world where I wouldn't have to pull my Moto X 2014 out of my pocket to change to the next song.
On top of all that, I was already looking for a stylish watch to compliment my wardrobe. There hasn't been an Android smartwatch released yet that tops the Moto 360 in the looks and customization department.
Where Things Started to Go Wrong
I stopped in a local eatery for some food on my way home and got to ogle my new Moto 360 for the first time. I was ecstatic, to try it out. Finally freed from the indentured servitude of pulling out my phone at every chime, I strutted around that weekend admiring how easier the Moto 360 made life.
I barreled through the setup process for the Android Wear software and set an alarm for the Moto 360. Unfortunately, the Moto 360 doesn't have a speaker so you really have to be wearing it for that alarm to be of any actual value. I wasn't because it needed to charge overnight and I overslept.
Not discouraged, I spent the a few hours on Saturday morning at my late appointment at the barbershop customizing the watch faces Motorola installed by default. There was a few I liked, I switched to one matching my shoes and moved. By this time I'd already received a few Twitter notifications and text messages on the Moto 360. I used my voice to reply to them. My phone rang, and I thought I'd just answer the call on the Moto 360 itself. I swiped, answered the call and realized there was no speaker and I'd still have to pull out my Moto X 2014.
Later I went to the moves, turned on Theater Mode to keep the random screen glare to a minimum and thought to myself, "I'm glad they thought of that."
I stopped for lunch and figured it was a great time to see what was available to me in the Android Wear section of the Google Play Store. I already had a few apps with Android wear experiences installed. iHeartRadio worked like a dream except I could only hear things through the phone so it was useless to me without my device. The same was true of Pocket Casts, my favorite way to pass the time. Beyond that, the Android Wear app selection was pretty dire. Getting to the apps I did have installed was a lesson in patience. One I reached them the Moto 360 felt sluggish.
I spent the next four days experiencing the other features the Moto 360 had to offer. I did indeed order the built-in Google Play Music experience to play a favorite artists of mine with just a voice command. It always worked on the second try. Replying to text messages with just voice was great too. Tracking the amount of steps you take and your heart rate were cool, but just not that interesting to me. Getting directions was cool too.
But every day I found myself recharging the Moto 360 at about 8PM and forgetting to put it back on before bed, leaving me without an alarm. To be clear, vibration alerts are there, they just aren't loud enough for a table away from your head.
In the end, it occurred to me that for all the talk about timeless design and a robust operating system, the Moto 360 was just a wrist mounted remote. I'd say hardware wise Motorola came close to nailing it. I felt like I was wearing a high-end watch, which is a really big part of the Moto 360 experience. Not having a speaker was a pretty bad move though, in my opinion.
More importantly, Android Wear turned out to be a half-baked dud. Compelling apps for Android Wear are pretty hard to find. Don't get me wrong, there are apps, but none of them anything that seals the Android Wear's relevance for me. When you do find an app you like it's buried under a menu. I still needed to use my phone for just about everything beyond replying to a message.
Read: Moto 360 Review
I returned the Moto 360 because while the hardware was almost ready, Android Wear just isn't. The Moto 360 is an amazing piece of technology, but know that if you're picking up the device to integrate the digital landscape more cleanly into your life you will be disappointed.

This article may contain affiliate links. Click here for more details.