Why I Signed Up for Adobe Creative Cloud
Adobe released Creative Suite CS6, updating its awesome creative software for professionals and serious enthusiasts. Instead of going out to buy a full version of CS6 or an upgrade license Adobe customers can do something completely different for the first time.
Every other year I update to the newest version of Photoshop taking advantage of my wife's status as a teacher so our family can use the educational discounted version that normally costs about $200. This year Adobe raised the price to $249.99. I only use Photoshop, so that's not a bad deal. I enjoy editing with it and love some of the new features they added in the last two versions, like the content aware fill in the last version and content aware patch in this one.
I use Photoshop and couldn't wait to get my hands on the latest version. I downloaded the beta and use it for Photo editing and for creating slides I use in my weekly church services.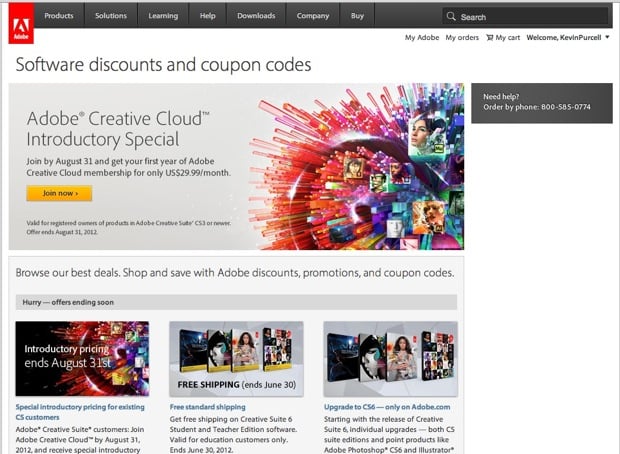 As I perused the Adobe site making my decision about upgrading this year, I noticed something after logging into the site. They offered their Adobe Creative Cloud service, a subscription based access to the full Creative Suite CS6 for just $29.99 per month, a $20 discount. My credit card just popped out of my wallet.
You too can get this deal if you join by August 31 and you're a qualifying Adobe customer. Owners of the last three versions of Creative Suite or any of the included single applications quality for the discount.
Adobe releases a new version every couple of years and I always get each new version of Photoshop at $200-$250 or about $8-10/month. A year's worth of paying $30/month costs $360, That seems steep, but I like the idea of using the other apps and am willing to pay $20 per month extra for the privilege. I tried out a few of the new CS6 applications and loved them. Without the Creative Cloud subscription I would have never forked over hundreds or thousands of dollars to use them.
If you only use Photoshop then the subscription might not be worth the additional cost. Adobe will be sun setting the $20 discount over time, raising it up to $50 per month. Another down side is you must commit to a full year or pay half of the remaining commitment. In other words, if I cancel after two months, I owe them five more months at $30 each, which is half the remaining 10 months.
I'm excited about learning the new programs and using them in my various roles as an online writer, weekly communicator, and photo and video enthusiast. I know I will use Photoshop and Premiere all the time. My son wants to get into computer design so he wants to learn illustrator, the drawing and design app as well as Fireworks and After Effects for doing graphics and visual effects.
I'm also excited about the way I can access my content online through multiple devices.
Adobe Creative Cloud's deal doesn't fit everyone's needs. Most users can enjoy the far cheaper Adobe Photoshop Elements and Premiere Elements for less than five months of Creative Cloud and still not use all those two apps offer. If you need for want a little more and own a qualifying product, you will want to take a look at Adobe Creative Cloud, available starting this week for just $29.99 per month. You can download the applications to your computer and publish your content at Adobe's hosting service or to tablets with Adobe Digital Publishing Suite. The Adobe Creative Cloud is still in pre-order mode, with services beginning on May 11.
Here is the full list of  Adobe applications and services including in the Creative Cloud subscription:
Photoshop Extended
Illustrator
InDesign
Adobe Muse
Acrobat X Pro for Creative Suite
Flash Professional
Flash Builder
Dreamweaver
Edge Behavior
Adobe Premiere Pro
After Effects
Adobe Audition
SpeedGrade
Encore
Bridge
Media Encoder
Business Catylist
Typekit
Story Plus
Cloud Storage and Syncing between devices and computers