Why I Skipped the Fire TV and Bought an Apple TV
Soon after Amazon announced the Fire TV yesterday, I did something that I've been wanting to do for a while; I bought an Apple TV.
I read over Amazon's news and skimmed through the features and details of the Fire TV, and ultimately decided that there just wasn't enough there to justify buying it over the Apple TV. Sure, the gaming support looks pretty cool, but I don't really play games all that much. The voice search is the one feature that stood out for me, but that still wasn't enough to change my mind.
So, I went onto Apple's online refurbished store and bought a 3rd-generation Apple TV for $80 and some change, after sales tax. Essentially, I saved $20 by not opting for the voice search feature (the stand-out Fire TV feature for me), as well as saving $60 overall if I had gotten the Fire TV gaming controller as well, which is priced at $39.99.
Fellow Gotta Be Mobile writer Warner Crocker detailed the reasons that he immediately bought the Fire TV soon after it was announced, and all of them are very valid, including the voice search feature. However, there's just not enough there to get me to buy it.
I've wanted a simple streaming box for awhile. However, rumors of an Amazon set-top box have been floating around for months, so I wanted to wait and see if Amazon's TV box would bring anything revolutionary to the table. Long story short, it really doesn't, which is why I went ahead and bought an Apple TV. Here are some more reasons.
AirPlay
One of the biggest reasons I wanted an Apple TV was because of AirPlay. This allows me to beam content that I play on my iPhone or iPad to my living room television. However, this only works on the Apple TV. If the Fire TV supported AirPlay, I might have thought a bit differently about my purchase. The Fire TV does support a similar feature for Kindle Fire tablets, but sadly, I don't have a Kindle Fire tablet.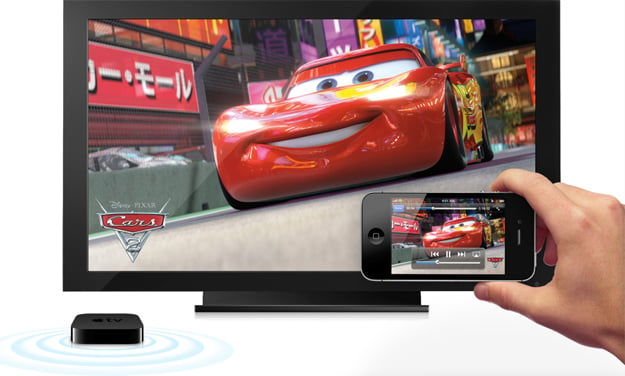 And since I only have iOS devices in my repertoire, it makes sense that I chose the Apple TV over the Fire TV for this reason. Granted, I don't really plan on beaming a lot of content to my TV using AirPlay, but I'd rather have the option to use than not have it at all.
iOS Interface
I like consistency in my life, and that goes double for my consumer electronics. I need to have everything on the same platform so that I can easily switch between them without having to adjust what I'm used to. In the past, I rocked a MacBook with an Android device, and then I got an iPhone. But eventually I started using an Android tablet alongside my iPhone and it just wasn't working out.
By getting an Apple TV, I'll be familiar with the iOS interface from day one, and using it shouldn't be all that different than what I'm already used to with my iPhone and iPad. Granted, there are some differences of course, but I feel that the Fire TV would be out of place in my iOS-driven household.
Where It Falls Shorts
The Apple TV doesn't support Amazon's Instant Video streaming service, which isn't a huge deal for me, since I don't use it often, but if I really wanted to, I could just open up the Instant Video iPad app and beam it to my Apple TV using AirPlay.
The Apple TV also doesn't support gaming like the Fire TV does. Like I said, I'm not a big gamer, but if I was, rumors point to the next Apple TV coming with game support at some point this year, so I wouldn't mind waiting a bit in order to get some classic iOS gaming on my TV, and I believe that iOS has some of the best mobile games of any platform.

As an Amazon Associate I earn from qualifying purchases.