Why I Won't Be Switching to the Verizon iPhone
Reports are that Verizon will be a having a big press even on Tuesday, possibly with Steve Jobs on hand, to help introduce a new Verizon iPhone. That is exciting news for many users who might hate AT&T or need to keep a family plan at Verizon due to other contract dates. In any event, an iPhone on Verizon will be good news for cell phone users.
For those of us who cover Apple, Verizon and AT&T, it is also good news as it means that we can get on with life and don't have to wade through all the Verizon iPhone rumors anymore. Of course, that is all dependent on this most promising rumor coming true on Tuesday.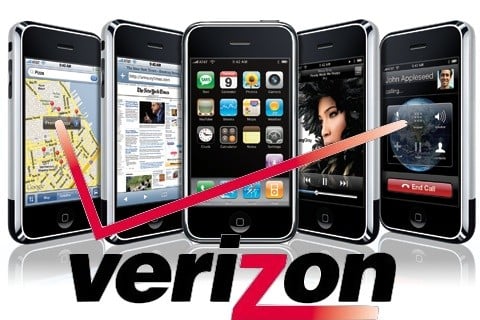 One thing is sure. I won't be switching and there are three good reasons why.
AT&T Contract: First, I have four lines on AT&T and the earliest date that I can cancel any of them is this summer. Switching would be costly. Those pesky early cancellation fees work. But even if I didn't, I still wouldn't be switching.
Location and Coverage: Second, where I live AT&T is pretty good. They've upgraded the network. Despite being horrible before September 2010, now it is reliable and fast. I know that many in the tech press live in San Francisco and New York, where apparently AT&T is awful. But not in my little podunk town in North Carolina.
Part of that is the new upgrade but part of it is likely the small number of smart phones in my rural area. I don't see iPhones every where. Most of my friends have feature phones still. And guess what? Most of America is more like my little town than San Francisco and New York. Further, we occasionally travel to Charlotte where they have the fastest version of AT&T's 3G network and it is slowly creeping out to our area. They also have Verizon's LTE, but I'm betting AT&T will be moving out sooner than Verizon's since they've been in Charlotte longer.
Also, on my recent travels from NC to Wisconsin for my mother's funeral we had the chance to bring two versions of the Novatel Mifi. These are similar to the devices that our own Chuong Nguyen got some hands on time with recently.
My Verizon Mifi model 2200 is on a contract which expires this month. I wanted to test out the AT&T Mifi 2372 before making the switch and losing my truly unlimited Verizon contract. Since I never go over 5GB anyway, the unlimited contract is not a real factor, but I wanted to be sure. So I signed up for the new AT&T Mifi and am trying it out on this trip.
I'll be doing a full review over at Notebooks.com. But I just wanted to share that I've learned something on this journey along with the Mifi about AT&T. For those of us destined to only 3G speeds for the foreseeable future it is faster and more ubiquitous than Verizon.
We drive from the foothills of the Western North Carolina mountains, through Tennessee, then Kentucky, Ohio, Indiana and Illinois before arriving in my hometown of Milwaukee, WI. In all of that traveling there was only a few short times without 3G. That was in the mountains of North Carolina, just over the TN/KY border before getting to Lexington, Kentucky and then for two short stretches before and then after Indianapolis. By comparison Verizon's 3G network was far less prevalent. I used the AT&T while my sons and wife were on the Verizon. They were constantly struggling to get a good connections while I was humming along most of the time.
Better AT&T Service Thanks to Quitters: There is one final issue. I am betting that with all the hype there will be a lot of people over the next year switching away from AT&T to Verizon. I am hoping a lot of them do. That way those of us left behind will get much more bandwidth because my family and I won't be switching on Tuesday — or any time soon.
And that comes from a guy who used to say, "The moment there is an iPhone on Verizon, I'm out of here!" No longer. Well at least not until Verizon gets LTE and an iPhone in my area.

As an Amazon Associate I earn from qualifying purchases.