Why I'd Buy the HTC One Instead of the HTC One M8
The HTC One M8, HTC's new flagship phone built to go head to head against the iPhone 5s and Samsung Galaxy S5, is a marvel to behold. HTC almost managed to build the perfect device. The metal frame is slick and the device itself feels substantial. There's also enough updated software and hardware features to make it a great buy over the iPhone 5s and Galaxy S5. However, I think buying last year's HTC One over the HTC One M8 might be a better idea for new smartphone users.
It'll Cost You Less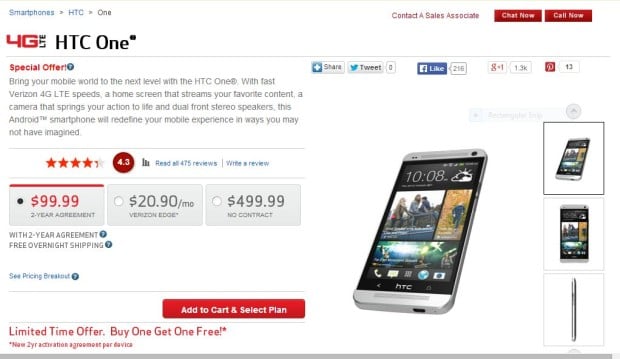 Right now buying an original HTC One at some wireless carriers is cheaper than buying the HTC One M8. A 32GB version at Verizon costs users $99.99. I understand that's not the case at all carriers, but users who do have a carrier that's still offering the original device stand to save more money. The base model of the HTC One included 32GB of storage, not the 16GB of storage the HTC One M8 does. If you're only going to store a moderate number of photographs and MP3s that 32GB should be enough to keep you from having to buy an external microSD card for the HTC One M8.
By comparison, the HTC One M8 starts at $199 with a two-year service agreement at Verizon Wireless and a 16GB MicroSD card costs another $12 from Amazon.
More Accessories Are Available
The HTC One M8's Dot View and other assorted cases are great, however they're nothing when compared to the sheer volume of accessories that have cropped up since the HTC One made its debut last year. Because the HTC One is older, there are simply more accessories available at more price points.
That isn't to say that there aren't plenty of low-end cases available for the HTC One M8. There are, and GottaBeMobile included a few of them in its roundup of decent accessories. However, when it comes to high-end cases like the waterproof cases, the HTC One M8 just isn't there yet.
You'll Get This Year's Software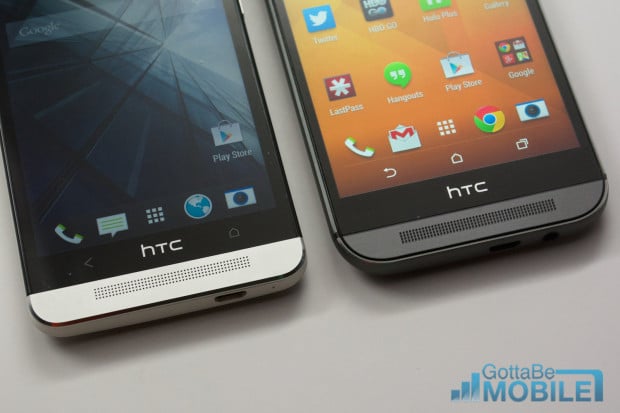 Clearly a lot went into creating the new HTC One M8's feel, its look and its new hardware features. Despite this, I'd like to point out that the device's biggest upgrade is its software.
HTC has made most of Sense 6's components updatable through the Google Play Store. Sense 5 often felt slapped together and was a visual mess, Sense 6 has a more coordinated feel that's reminiscent of the design work Apple did with iOS 7 and what Microsoft is trying with Windows Phone 8. The Blinkfeed and camera app complete with HTC Zoe video clips just feel easier to use.
All of that is headed to the original HTC One. That means users can expect the new premium experience without having to pay a premium price.
It's Better for People With Smaller Hands
The original HTC One is actually friendlier for users who have small hands. That's because the HTC One M8 sports a 5-inch display instead of the 4.7-inch display that was available to users last year.  Where the HTC One measured 5.41-inches from speaker to speaker, the HTC One M8 is 5.7-inches from top to bottom, nearly placing it in the realm of phablet and making it even harder to reach the top of the device to turn it on or off.
The Hardware Isn't That Much Better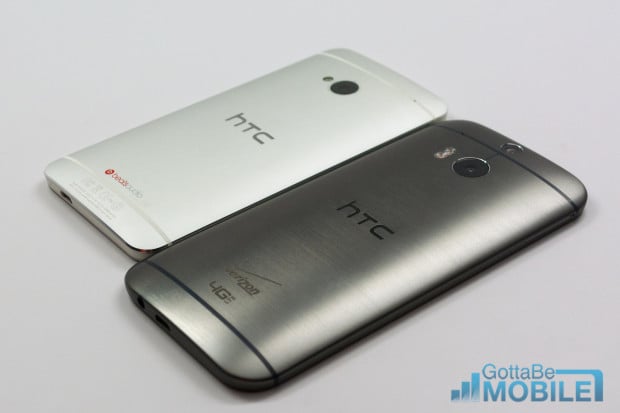 The key reason I'd opt to purchase last year's device is the same reason that makes the HTC One M8 such a crowd pleaser: HTC barely changed anything meaningful hardware-wise.
There are little changes every. The power button still feels awful, but it no longer houses the IR blaster. Instead it's been moved to the top of the device on its own. The power port at the bottom is now flanked by the headphone jack so that users can easily pull in and out of their pocket. This being Android, there is even a new, updated processor. I should note that a new second rear-facing camera allows users to refocus images. I even appreciate that HTC finally eliminated physical buttons on the device's face all-together.
Read: HTC One Review: The Best Android Phone Available Has One Fatal Flaw
Here's the thing, none of those changes really add up to an experience that's loads better than what HTC One users get. The second rear-facing camera is great to have but it's still paired with a 4 megapixel PixelSense camera that takes really soft pictures. That upgraded processor is great, but I doubt most users could tell the difference in performance between the two devices. The HTC One was already a very good Android phone.
If you're on the fence, I'd say go into a store and get a feel for the original HTC One, then make your decision. Spend a bit of time thinking about whether the updated hardware features are enough to justify the higher price. I think you'll chose the HTC One over the HTC One M8.

As an Amazon Associate I earn from qualifying purchases.