Why I'm Passing on the Nokia Lumia 900
Over the past few weeks, I have wrestled with a decision, a decision about whether to pick up the Nokia Lumia 900 Windows Phone for AT&T. As many of you know, I am the owner of an iPhone 3GS. I wrestled with a decision to replace it last year and ultimately ended up getting the Samsung Galaxy Nexus on Verizon to finally retire my iPhone.
Unfortunately, that experiment lasted a whole month before I turned back to old faithful.
Back in January, I had the chance to finally go hands-on, extensively, with Windows Phone Mango. I also got to play around with the Nokia Lumia 900. And while I've had my sights set on the iPhone 5, something about Windows Phone and the Lumia 900 intrigued me.
I then went hands-on with a lesser Windows Phone, the Samsung Focus Flash for AT&T. And even though the device is a low-end phone, I found myself falling in love with Microsoft's software.
Nokia hardware, Microsoft software.
Hook, line, and, well, not quite yet.

So when AT&T finally announced the release date of the Lumia 900 as April 8th and attached that luscious $99.99 price tag to it, I started having an honest internal debate with myself.
Should I pick up the Lumia 900?
We gave it a very favorable review yesterday which only made the decision harder.
Read: Nokia Lumia 900 Review.
I decided to sleep on it.
And I woke up today with a decision.
I won't be buying the Nokia Lumia 900, even though a part of me really thinks that I'd end up loving it. Thing is, it's not Windows Phone itself. And it's not the hardware. I still love both of those.
For me, it comes down to the apps.
Or, the lack of them.
As an iPhone owner, I have long taken app availability for granted. But recently, with the botched releases of Instagram and Temple Run for Android, I have grown to appreciate how lucky iPhone and iOS owners like myself are.
I also can see now, how painful it would be for me to be on Windows Phone now.
Some of the applications I use the most on my iPhone, and I honestly don't use that many, are missing on Windows Phone. Here are a few:
Temple Run
Flipboard
Draw Something
Angry Birds Space
Audible
Instapaper
Instagram
Want some more?
Read, Windows Phone 7 Apps. What are we missing?.
You can argue with me all day about how these apps don't matter to the experience but I won't agree with you. Bottom line, apps drive the mobile experience.
My mobile experience.
I have a hard time buying into Android because developers generally release Android apps second. And even then, there is no guarantee that they'll work on my device.
See: Instagram and Temple Run.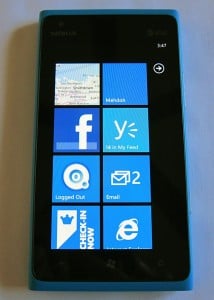 Or better yet, check out how dominant the iPad is on the market. Curious about why?
It's all about the apps, my friends.
Windows Phone has a problem different from Android though. The apps don't even exist and some developers, like Rovio – maker of Angry Birds, don't even seem that keen on making apps for Microsoft's platform.
I have no doubt that they will change their minds though. Windows Phone is an awesome piece of software. It's just going to take some time.
I'm just not willing to wait.
So I won't be buying the Lumia 900 but I'll say this.
The Windows Phone Marketplace is growing by the month. And if those apps and others show up between now and the launch of the iPhone 5, Apple is going to have to work hard to keep me as a customer.

This article may contain affiliate links. Click here for more details.