Why Nokia, Not Microsoft, Should Use Its New $7 Billion to Acquire BlackBerry
On Monday, Microsoft had announced that it is acquiring Nokia's device business along with Nokia's talent and management in crafting smartphones, effectively transforming Microsoft further into a devices and services company for the cost of $7 billion. Shortly after the Microsoft announcement, rumors are circulating once again that the Redmond, Washington software giant turned device maker is also eyeing an acquisition of rival BlackBerry, which makes its own smartphones that run the proprietary BlackBerry 10 operating system.
Like Nokia, BlackBerry was once a dominant force in the smartphone market and has find itself struggling in recent years against stiff competition from newcomer Apple, Samsung, Sony, LG, and others. But rather than let Microsoft swoop in for BlackBerry assets, Nokia should eye an acquisition of BlackBerry based on its QNX property.
READ: Why RIM Should Abandon the Consumer Market and Tackle Hybrid Car Tablet Market with PlayBook, QNX
After Nokia sheds itself of its consumer-facing phone business and reinvents itself, the Finnish company will be focused on three core businesses: its HERE location services, network infrastructure through its Nokia Solutions and Networks business, and its Advanced Technology group for developing and licensing innovation which is likely an evolution of the Nokia Research Center business. HERE would be a great match when paired with BlackBerry's QNX and could present new business opportunities for Nokia as it makes a bigger push into the smart, connected car business.
I had attended some HERE presentations over the last few weeks and have walked away impressed with how Nokia is creating new maps with Earthmine's modular map-creating cars using lasers and 360-degree panoramic cameras as well as the company's push into the connected car space to take on heavyweights like GM's OnStar, Sprint's Velocity, and AT&T's foray into the space with General Motors.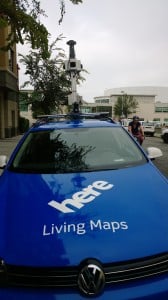 At the time, Nokia says that its apps and platform for the car were built using QT, and despite the phone business, which at the time had not been spun off to Microsoft, using Microsoft software Nokia did not mention anything about Windows Embedded in the car. What Nokia showed me were a number of services for mapping on the go, discovering new places, connecting the car to your phone for connectivity, additional features, and remote services. And while the maps on the car were built by HERE and the car mapping feature looks similar to the HERE Drive+ Beta on Windows Phone, Nokia really didn't have a solution for the rest of the infotainment experience, which it says is up to its auto partners to create if they want to add services such as music streaming, movie playback, or other functionality.
This void could easily be filled by BlackBerry's QNX OS, which itself owns roughly a 60 percent infortainment market share as of spring 2013. QNX, built upon HTML 5, is flexible, robust, and comes with an architecture that HERE could build upon.
So Nokia brings maps to the table while QNX will bring a robust platform. Nokia's vision for HERE is to offer car-makers a "turnkey solution" to reduce the time to market it takes to bring the smarter car solution to consumers, a partnership with HERE could be beneficial. Together, the pair could deliver infotainment and entertainment capabilities, a robust ecosystem of car content, ease of pairing to popular smartphone platforms, and mapping and location information.
Part of the evolution of HERE is to create a location cloud where information could be stored, synchronized, and pushed to devices. Nokia envisions a day when car sensors–about over 200 of them are in a modern car–could alert drivers, warn other drivers, and provide useful information to the HERE system. If, for example, your GPS shows that you're on a freeway and you're constantly hitting the brakes, HERE would know that there is traffic and could divert other drivers from taking the same route. If your car windshield wipers go off and the sensors know that the wipers are on high speed, a heavy storm must be occurring in the area. Thanks to this automated crowdsourced information, HERE could re-route other drivers around slippery roadways if they don't need to be or go through the area.
QNX's on-board infotainment system already connects to a car's computer system and already has access to all the car's sensors. QNX's expertise for things on or in the car coupled with HERE's class-leading maps could be a win for consumers, auto-makers, and for both companies strategically in the long run.
And both companies already have a common enemy in Google. Google wants to enter the car space with its own car platform for autonomous driving, which could shun QNX out of the vehicle if Google wins the race and is able to get some version of Android into the cockpit. Google Maps is a direct competitor to Nokia's HERE maps, and a stronger QNX + Nokia partnership could help both companies compete with Google.
Already at the onset with HERE, Nokia has a lot going for it in the race against Google. For instance, the sensing of brake data and use of algorithms to determine roadway congestion automatically is much safer than having the driver manually enter in a traffic alert on a crowdsourced system like the Google-acquired Waze service.
Nokia probably wouldn't want the rest of BlackBerry's phone business, and perhaps this could make BlackBerry devices division more appealing to Microsoft as the company may not have much interest in BlackBerry's other businesses including QNX.
HERE's maps are already present on 80 percent of car navigation systems and so Nokia could also help to get QNX into more cars as it creates a complete end-to-end system for auto-makers to quickly and rapidly deploy.

2020 Genesis G70 RWD 3.3T Sport Review
The 2020 Genesis G70 is a special combination of luxury, performance, and driving dynamics that are sure to bring a smile to your face. The Genesis G70 is a luxury sports sedan that punches up to the C-Class and 3-Series, with the ability to deliver fun and great engine noise at a more affordable price.
There is a lot to like about the 2020 G70 RWD 3.3T Sport, but you do need to accept a smaller back seat and an infotainment system that could use an upscale user interface. Thankfully the system does support Apple CarPlay and Android Auto, which is where many drivers will spend their time. Available in 2.0T, 2.0T Sport, and the 3.3T trims. I tested the Sport Trim with Rear Wheel Drive.
Driving the 2020 Genesis G70 RWD 3.3T Sport
The G70 is an absolute blast to drive. The rider is great, and even in sport mode it still feels very controlled. The expertise that went into fine-tuning the handling and performance shines through when it delivers a smile on twisty roads. Even when pushed, the car feels under control and the behavior is predictable and repeatable, which leads to a fun, yet safe experience. A low center of gravity and the electronically controlled suspension play together nicely, resulting in an excellent rider quality.
You can dial up Eco, Smart, Comfort, Custom, and Sport driving modes. Eco is optimized for fuel economy, Comfort for a smooth comfortable ride, and Smart adapts to your driving style. Sport mode optimizes for a more engaging driving experience, but it is still comfortable if you want to use this mode on longer highway trips. Custom lets you mix different options to match your preferred settings.
The twin-turbo 3.3L V6 provides plenty of power and the engine sounds excellent. The power and the exhaust note offer a compelling combination to the luxurious interior and refined looks. The G70 3.3T Sport is quick, with a 0-60 time under 5 seconds. The adjustable suspension lets you control how much feedback you feel, but even without adjustments, you get a lot of feedback from the road.
You can expect around 20 mpg combined with 17 mpg in the city and 26 mpg on the highway.
Genesis G70 Interior
The 2020 Genesis G70 interior is positively luxurious. The materials are top-notch and I loved the quilted seats and armrest area. In addition to looking great, the seats are very comfortable. I cruised all over Northwest Ohio to check in on some friend's kid's baseball games, watching from a distance, and even after a long day of driving, I felt fresh. The layout of the cabin is good with a nice amount of center console storage and wireless charging when I wasn't using CarPlay.
One small feature I loved was the adjustable bolsters on the seats, which lets you adjust for a tighter fit during aggressive driving, and a looser more comfortable grip during normal driving. These are easy to adjust using the controls on the side of the seat. You can also adjust some of the motion of the passenger seat using controls on the driver's side. This is handy if you are helping someone get in upfront, or if you need to make room for an adult or kid in the backseat. The seats are heated on all models and on the Elite and higher they are also ventilated, which is a must-have upgrade in the middle of hot summer.
Rear seat legroom is a bit cramped, but it is good enough for kids, and an adult on a sort ride can be comfortable. If you plan to cruise with adults, look at the more spacious G80 or G90.
The trunk handled my collection of gear for road trips, hiking, and helping with a home renovation. It's large enough to handle a handful of suitcases and other items that you will need on your road trips. On the Prestige and higher packages, you get a Power Trunk.
Infotainment & Safety
The Genesis infotainment system is good, but it looks like it was pulled right out of a Hyundai. It's easy to use and the system works, but it doesn't match the interior of the G70 as well as it could. The good news is that the system supports Apple CarPlay and Android Auto. You need to plug in to use these options, but with a cord, you get the best access to your messages, music, audiobooks, maps, and calls. You can also use Bluetooth to connect to the car for calls and music. The Lexicon 15 speaker stereo system is good, allowing me to find sanctuary on the road. Call quality over Bluetooth and CarPlay was good. There are three USB ports, two up front and one in the rear.
There is a lot of great safety technology and driver convenience features. The adaptive cruise control worked nicely, keeping me in pace with traffic as I cruised along the interstate. Standard safety and convenience features include;
Blind-spot monitoring with rear cross-traffic alert
Lane departure warning and lane-keeping assist
Automatic high beam headlights
With the Elite Package, you get Low Beam Assist, which steers the headlights with the wheel, to light up the direction you are turning as you drive. This dramatically improves nighttime visibility.
This article may contain affiliate links. Click here for more details.