Why Nokia, Not Microsoft, Should Use Its New $7 Billion to Acquire BlackBerry
On Monday, Microsoft had announced that it is acquiring Nokia's device business along with Nokia's talent and management in crafting smartphones, effectively transforming Microsoft further into a devices and services company for the cost of $7 billion. Shortly after the Microsoft announcement, rumors are circulating once again that the Redmond, Washington software giant turned device maker is also eyeing an acquisition of rival BlackBerry, which makes its own smartphones that run the proprietary BlackBerry 10 operating system.
Like Nokia, BlackBerry was once a dominant force in the smartphone market and has find itself struggling in recent years against stiff competition from newcomer Apple, Samsung, Sony, LG, and others. But rather than let Microsoft swoop in for BlackBerry assets, Nokia should eye an acquisition of BlackBerry based on its QNX property.
READ: Why RIM Should Abandon the Consumer Market and Tackle Hybrid Car Tablet Market with PlayBook, QNX
After Nokia sheds itself of its consumer-facing phone business and reinvents itself, the Finnish company will be focused on three core businesses: its HERE location services, network infrastructure through its Nokia Solutions and Networks business, and its Advanced Technology group for developing and licensing innovation which is likely an evolution of the Nokia Research Center business. HERE would be a great match when paired with BlackBerry's QNX and could present new business opportunities for Nokia as it makes a bigger push into the smart, connected car business.
I had attended some HERE presentations over the last few weeks and have walked away impressed with how Nokia is creating new maps with Earthmine's modular map-creating cars using lasers and 360-degree panoramic cameras as well as the company's push into the connected car space to take on heavyweights like GM's OnStar, Sprint's Velocity, and AT&T's foray into the space with General Motors.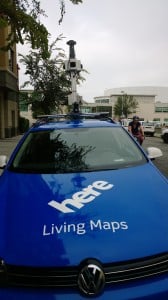 At the time, Nokia says that its apps and platform for the car were built using QT, and despite the phone business, which at the time had not been spun off to Microsoft, using Microsoft software Nokia did not mention anything about Windows Embedded in the car. What Nokia showed me were a number of services for mapping on the go, discovering new places, connecting the car to your phone for connectivity, additional features, and remote services. And while the maps on the car were built by HERE and the car mapping feature looks similar to the HERE Drive+ Beta on Windows Phone, Nokia really didn't have a solution for the rest of the infotainment experience, which it says is up to its auto partners to create if they want to add services such as music streaming, movie playback, or other functionality.
This void could easily be filled by BlackBerry's QNX OS, which itself owns roughly a 60 percent infortainment market share as of spring 2013. QNX, built upon HTML 5, is flexible, robust, and comes with an architecture that HERE could build upon.
So Nokia brings maps to the table while QNX will bring a robust platform. Nokia's vision for HERE is to offer car-makers a "turnkey solution" to reduce the time to market it takes to bring the smarter car solution to consumers, a partnership with HERE could be beneficial. Together, the pair could deliver infotainment and entertainment capabilities, a robust ecosystem of car content, ease of pairing to popular smartphone platforms, and mapping and location information.
Part of the evolution of HERE is to create a location cloud where information could be stored, synchronized, and pushed to devices. Nokia envisions a day when car sensors–about over 200 of them are in a modern car–could alert drivers, warn other drivers, and provide useful information to the HERE system. If, for example, your GPS shows that you're on a freeway and you're constantly hitting the brakes, HERE would know that there is traffic and could divert other drivers from taking the same route. If your car windshield wipers go off and the sensors know that the wipers are on high speed, a heavy storm must be occurring in the area. Thanks to this automated crowdsourced information, HERE could re-route other drivers around slippery roadways if they don't need to be or go through the area.
QNX's on-board infotainment system already connects to a car's computer system and already has access to all the car's sensors. QNX's expertise for things on or in the car coupled with HERE's class-leading maps could be a win for consumers, auto-makers, and for both companies strategically in the long run.
And both companies already have a common enemy in Google. Google wants to enter the car space with its own car platform for autonomous driving, which could shun QNX out of the vehicle if Google wins the race and is able to get some version of Android into the cockpit. Google Maps is a direct competitor to Nokia's HERE maps, and a stronger QNX + Nokia partnership could help both companies compete with Google.
Already at the onset with HERE, Nokia has a lot going for it in the race against Google. For instance, the sensing of brake data and use of algorithms to determine roadway congestion automatically is much safer than having the driver manually enter in a traffic alert on a crowdsourced system like the Google-acquired Waze service.
Nokia probably wouldn't want the rest of BlackBerry's phone business, and perhaps this could make BlackBerry devices division more appealing to Microsoft as the company may not have much interest in BlackBerry's other businesses including QNX.
HERE's maps are already present on 80 percent of car navigation systems and so Nokia could also help to get QNX into more cars as it creates a complete end-to-end system for auto-makers to quickly and rapidly deploy.