Why Not Manufacturing the A5 Processors for Apple May Be Good for Both Samsung and Apple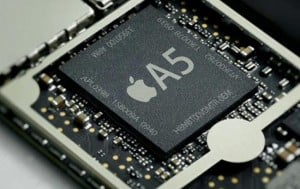 Recent reports on the Internet that Apple may be looking towards another vendor to manufacture its A5 processor and rely less on Samsung–which was responsible for manufacturing the bulk of the A4 chipsets–tell us why that would be good for Apple as the company would be less reliant on a competitor. Not only does Samsung compete with Apple in a number of areas–smartphones through the Galaxy S flagship line, tablets via the Galaxy Tab, iPod Touch via the Samsung S WiFi 5.0, the company also develops alternatives to Apple products like Smart TVs that may be seen as a substitute to Apple TV.
However, in not delivering A5 processors, the move may be beneficial to Samsung as well. The company is already constrained in its chip-making process. In addition to aiding Apple in manufacturing the Apple A4 chipset, the company also developed its own gigahertz single-core mobile CPU called the Hummingbird that appeared in the Galaxy S and Galaxy Tab. Now that the A5 is about to hit, the company is also making its own dual-core Exynos chips. Making the A5 chip and the Exynos chip may be too much for Samsung to tackle as supplies of the Exynos chips are already constrained. That has forced Samsung to even use a rival chipset in its flagship updated Galaxy S II smartphone, meaning that there is one version of that phone with an NVIDIA Tegra 2 chip and another using Samsung's own Exynos CPU.
On the Apple end, the move to become less reliant on Samsung could mean that the company's competitor would remain in the dark about proprietary sales data of the iPad 2 and iPhone 5, whenever that flagship smartphone gets released. By being the primary manufacturer of the A4 chipset, Samsung could infer how many devices are made and sold as it controls a core component to Apple's smartphone and tablet. The other minor supplier to the A4 chipset is TSMC, which is expected to pick up more of Apple's business from Samsung in delivering the A5.
In the past, Samsung and Apple have enjoyed a close relationship as the former company had provided Apple with flash memory, which was a critical component for the iPod and iPhone. However, as Samsung encroaches more on Apple's core hardware business, Apple seems less than thrilled. That was most apparent from a public angle during Steve Jobs' announcement of the iPad 2 where Samsung's name was brought up at least twice in a negative light.
In the first instance, Jobs called out Samsung, as well as rivals RIM, Motorola, and others as "copycats" to the iPad line of business. The second instance occurred when Jobs used a quote–that had since been corrected multiple times by Samsung and the press previously, leading some to say Apple had misquoted Samsung–by a Samsung executive. The quote essentially says that sales of the Galaxy Tab were 'quite small,' which was corrected to say 'quite smooth,' but the correction, which happened weeks ago, was not reflected in Jobs' keynote.
Hopefully, by dedicating its resources to its own chip business, Samsung could scale up delivery of its Exynos chips and provide its mobile CPU offering as a rival to Texas Instruments, Qualcomm, Marvell, NVIDIA, and others, to other tablets and smartphone vendors.
Via: IntoMobile

This article may contain affiliate links. Click here for more details.