Why Pretty Matters in App Design
Yesterday Google launched a new iPhone version of its Google+ App. Uncharacteristically this is a departure for Google. If you read about the App launch around the web you'll see it described as everything from pretty to gorgeous. I'd have to agree. Some are even saying that this might make them use Google+ more. Given Google's big push into social with Google+, this can only help. The updated App reminds me somewhat of another reasonably successful iPhone App, Path. Like Path, the App not only looks great, but takes advantage of the fact that we're using a touch interface and is actually fun to use. But let's talk about the pretty.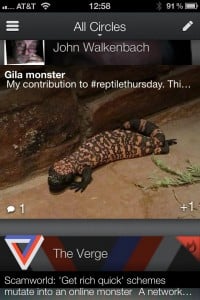 Set aside that for a long time Google has seemed almost anti-design in its design efforts. I say "seemed" because there was certainly a Google aesthetic to everything that Google rolled out. I would call it utilitarian. I would also call it boring. But this new look App breaks that predictable mold in a big way. In my view, this is important because of what I call App psychology. (Or at least my App psychology.) An attractively designed App can go along way to garnering positive early reviews and user adoption. More importantly, an attractively designed App can keep users coming back time and time again. Of course the App has to have some functionality that makes it worth using as well. Google is really pushing Google+, and it is pushing photos as a part of that. The new App shines with photos, and quite honestly in just a little under a day's usage, I find that the updated App is attracting me back to it because of how those pictures are displayed on my iPhone.
Here's what I mean by that. When I have a few unexpected minutes of downtime that give me the space to shut my brain off, I frequently grab my iPhone and take a quick look at Twitter or Path or Facebook. Those who follow me have probably noticed that I retweet or like things in bunches during these brief periods of time. I don't think I'm alone in that based on what I see from the folks I follow. Increasingly, I have found myself going to Path for this, simply because I find it relaxing as well as fun to view the photos that folks share. I can see this new Google+ App filling that same niche. And, beyond the pretty, the new App makes it easier for me to hit the +1 button on a picture or a post. That's a key too.
I had one of those brief down moments this morning when an appointment got postponed and I really enjoyed sitting at a coffee shop scrolling through Google+ on the iPhone. I bet I hit the +1 button more frequently than I normally would have. But what drew me there was the beautiful display of the pictures and the ease of browsing them.  My suspicion, based on my patterns, is that it will draw me back more and more.
The other reason that pretty is important is this is what smartphones and tablets are all about to a large extent. Manufacturers and users both recognize this, otherwise there would not be so much investment, both from the makers and they consumers,  in screen display technology. The richness of a display can actually go a long way towards making you forget how much you might have paid for a device, assuming you have equally rich content to view on that fancy display. There's a tangible and visceral payoff when content and display technology line up this way.
By the way, a lot folks have commented about not having an iPad version. The iPhone version, while certainly not designed for the iPad, does look pretty good in 2X mode.
Frankly, I'm glad that Google has taken this design departure. I hope to see it manifest in Google's other offerings soon. We're starting to see some of the gorgeous iOS Apps make their way to Android (Flipboard being one example) and Google choosing to recognize how important App design can be will only help it continue to compete with what iOS App designers are cranking out.