Why Samsung, Apple Should Be Concerned About the Moto X Threat
Google executives have been underplaying the potent power of Motorola Mobility's X Phone, which has was recently referred to as the Moto X, but the device could signify trouble for dominant smartphone-makers Apple and Samsung.
Earlier this year, Google CFO Patrick Pichette tried to temper expectations about the secret device, saying that it lacked the "wow factor," but even without thrilling quad-core or octa-core specs, Apple and Samsung should be concerned about the potential that the X Phone would deliver.
It's Not About the Hardware
In the past, despite gorgeous industrial designs crafted by master magician Jony Ives, Apple would lead you to believe that it was a software company and not a hardware company. Samsung's plastic marvels that sells like hotcakes are hardware, but even the South Korean Android-maker is a software company layering on TouchWiz and proprietary apps and services to make its device standout. So too is Motorola Mobility a software company and not a hardware company.
Sure, the first Moto X may not have the ground-breaking specs that Android enthusiasts clamor about, like the latest chipsets from Qualcomm or the most amount of RAM, and that may not be a bad thing. For one, the latest advancements in mobile processing power means that for most users, even mid-range or sometimes entry-level specs can keep up. You can still check emails, make phone calls, send text messages, run your favorite casual games, and, yes, even multi-task with a basic single-core or dual-core CPU. Motorola doesn't need to out-compete Samsung and HTC to bring the latest quad- and octa-core goodness to its phones, it just needs to craft its experience to be better.
Late Apple CEO Steve Jobs had stated that Apple wants to remove the technology from its products so users can do what they want or love to do. Motorola may be playing the same strategy by ignoring hardware and instead optimize its software, and in the process this would help Google.
The Price is Right
Google had aggressively priced its Nexus devices in the past to come with competitive specs and a very competitive price. And even with the Nexus devices, the specs may not be bleeding edge compared to rival flagships, but Google offered nice trade-offs with pricing and an unlocked strategy. Likely, the Moto X Phone will be priced aggressively and carrier subsidies will make Motorola a good bet for those looking to upgrade.
With Motorola an already recognized brand for consumers, and not just developers, Google has the opportunity to repeat many lessons learned from its Nexus campaign, but to an even larger audience. Given that the Moto X doesn't come with class-leading specs, the device should be extremely affordable and attractive to consumers.
All About Android
The the heart of the Moto X Phone is the Android experience, and Motorola's new strategy is removing as much of the customization as possible. In turn, the company is promising swifter Android OS upgrades when Google releases those, and a cleaner, simpler experience. That will benefit consumers.
Google's purpose with Android is not about crafting those swanky UIs, it's about creating an Internet portal where it could collect information from user's emails, Internet history, and apps to deliver targeted ads. To that end, Google doesn't really need to make money on hardware. It could just break even on hardware and still come out ahead with the potential to deliver more ads, sell more apps, and get customers hooked onto more services like Google Music All Access.
This means that the Moto X will provide general appeal to consumers and to developers and the device could slot in as a Nexus replacement.
X Marks the Nexus Spot
There were concerns when Google and partners HTC and Samsung had announced that the flagships HTC One and Samsung Galaxy S4 would come with "Nexus Experience" variants. Developers and purists were concerned that Google may not make another Nexus, especially when LG had confirmed that it is not currently in discussions with Google on crafting a Nexus 5, but Google had laid some of those concerns to rest by saying that the Nexus line will continue. I think this is true to an extent, but that the Nexus appeal may be limited and it will be Motorola's broad consumer appeal that will lead Google's brand, developer, and consumer strategies.
First, Motorola's Moto X will come with a great price, a near Nexus experience with a close to stock build of Android, and accessibility to 4G LTE networks. This will allow developers access to a device that meets most of their needs, and consumers will be able to walk away with a powerful smartphone that does everything they want. The Nexus line so far is crippled by its lack of LTE support and a more limited distribution through T-Mobile and the Play Store, limiting its broader appeal.
Second, the Nexus line would essentially compete with Motorola, which may not be an effective strategy for Google, which had already invested $12.5 billion in acquiring the hardware-maker. Why would Google want to promote another hardware, pay someone else, and then sell those products at cost they would compete with Moto's devices? Google will want to pull its marketing dollars together to spend on the Motorola brand. Given that Google is allowing more manufacturers into the Nexus fray, selling there devices at prices in excess of $600 rather than the $300 Nexus 4, the Nexus brand will be less important for Google to manage.
If you want a Nexus, get the Nexus Experience HTC One, Samsung Galaxy S4, or the rumored Xperia Z that may be coming with vanilla Android. If you want the Google hardware and features, go with Motorola but expect the company to not having blazing fast hardware. Instead, Motorola will be about an overarching experience, leading in terms of new features and sensors, and connecting people to Google's services.
The X Phone could very well be the next Nexus, a relatively inexpensive device that delivers Google's vision, and one that doesn't have to keep up with common specs.
Hitting the Competition Where It Hurts
Where the X Phone really is important is its pricing strategy. Google has demonstrated that its Asus-made Nexus 7 tablet with a $200 price point could dominate the smaller form factor tablet market. With the X Phone, Google could deliver a better than decent phone experience and change the market.
Apple and Samsung, which are known to be the biggest winners in the smartphone industry and share the bulk of the market's profits, will have to price their flagships down to compete against Google. Since the Nexus 7 debuted, Samsung's Galaxy Tab series have seen prices dropping from when the slates first debuted.
For Samsung and other smartphone hardware companies, selling a product at or near cost may not make sense. For Google, this strategy is effective, as it doesn't need to profit on hardware–it just wants to sell you another portal so that you'd want to use Google services. It's like Gillette giving away free razors so you'll buy the blades later, or HP handing away free printers so you'll get the ink cartridges when you run out.
So on the surface, the Motorola X Phone may not wow you with its mid-range specs, but it will be an industry game changer where it matters: a good user experience with solid specs, pricing that's affordable, a mainstream distribution strategy, and forcing industry pricing downward.
Appealing to Your "Senses"
One area that Motorola's new head Dennis Woodside had hinted to was a sensor network for Motorola's future phone. Woodisde had stated that the company has been applying what it learned about always-on sensors and low power consumption as a result of the Motorola MOTO ACTV sports watch, and those battery-lengthening technologies could allow Motorola to construct a phone with more sensors.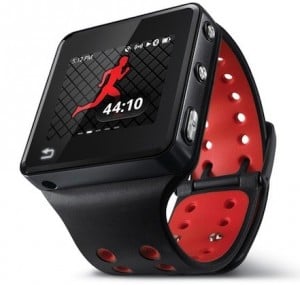 Consumers would benefit from graphs and analysis of the distance they walked or drove in any given day, the changing temperatures, and other information that embedded sensor networks may provide.
Google, on the other hand, could benefit if it could find meaning in the information it collects to improve its anticipatory Google Now search. It's a win-win on both ends.
And given Google Now, a service, is a big draw to Android right now given how well it works in presenting data it learns about users in a meaningful way, the experience may be best experienced on a Motorola phone given the added sensors and data that Now could collect, process, and learn.
Just Plain Smart
At the end of the day, your smartphone experience isn't about having the fastest and best specs on the market. It's about the device being smarter, more agile and nimble to anticipate your needs and deliver you information as you need it.
And today, with cloud services, specs increasingly don't matter on a phone. You no longer need a powerful phone to edit photos thanks to new Google photo and editing cloud services through Google+. As services move to the cloud, an entry level smartphone could become just as powerful as a high-end model, just with less cost.
Google is in a good position to start the next mobile revolution through its large Internet empire, and given the right pricing, the Motorola X Phone could be an invaluable, affordable gem that has the power to change the industry.

As an Amazon Associate I earn from qualifying purchases.