Why Spotify Is Better Than Apple Music
Apple Music launched late last month alongside the iOS 8.4 update, but here's why Spotify is still better than Apple's new music streaming service.
In what could be called a late move by Apple, the company finally launched its own music streaming platform after years of dominating in the music business. It first revolutionized music with the introduction of the iPod back in 2001 and the launch of the iTunes Store in 2003, completely changing the way users buy music.
Since then, Apple has been a music powerhouse, with iTunes being one of the biggest sources for buying music digitally, and has since grown to include movies, TV shows, and iOS apps.
With that said, you could say Apple took its pretty little time releasing a music streaming service, especially since titans of industry like Pandora, Spotify, and Rdio have been available for several years now and are dominating the landscape.
However, because of Apple's huge following, the late launch of Apple Music doesn't seem to be a problem, and millions of users are already using Apple Music and switching over to the company's new streaming service, but here's why Spotify is better than Apple Music.
First off, let's talk about the color schemes. Spotify uses a dark background with light text, while Apple Music uses a white background with darker text. Complete opposites, which is fine, and many users enjoy both themes, but I find Spotify's darker theme to be easier on the eyes, especially since I play a lot of music at night and use Spotify to play music before bed.
Apple Music's color scheme just isn't good for this kind of use. Hopefully, Apple adds a "dark mode" to Apple Music where you'll be able to change the theme depending on the time of day, but for now I just can't use Apple Music with its bright theme.
Read: Apple Music Problems: 5 Things You Need to Know
Playlists are another thing that Spotify simply does better with. For instance, there's no way to add a song to a playlist without adding it to your library in Apple Music. In other words, when you add a song to a playlist, it automatically gets added to your library, which I got frustrated with right away.
Furthermore, with Spotify I can add a song to a playlist and make a new playlist right then and there, but on Apple Music it's not possible. Instead, you have to make a new playlist in "My Music" then go back and find the song you want to add to the playlist that you created.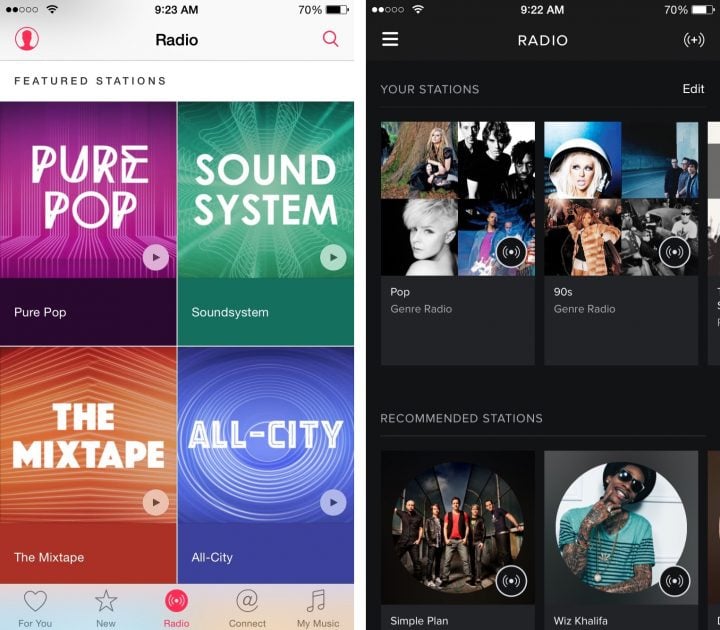 Another annoyance is that there's no way to play the top tracks from a certain artist in Apple Music. Several of us at Gotta Be Mobile use this feature on Spotify frequently, especially if we're checking out a new artist and want to hear their popular songs right from the get-go.
Search is something else that Spotify excels at. For instance, Spotify provides real-time results and shows you songs, artists, or albums that you may be searching for, which means that once you type in what you want, you can usually just tap on a result to go instantly to that song, artist, or album. However, Apple Music simply just provides search term suggestions, from which you can tap on one to search for it, and it's an additional tap to start listening to something.
Discovering new music is something that many users enjoy doing, but Apple Music makes it a bit difficult to do that. In Spotify, you can spend a ton of time getting lost in newly-discovered music, whereas finding artists that are similar to what you're listening to is more difficult in Apple Music. I think that's something Spotify focuses on a lot.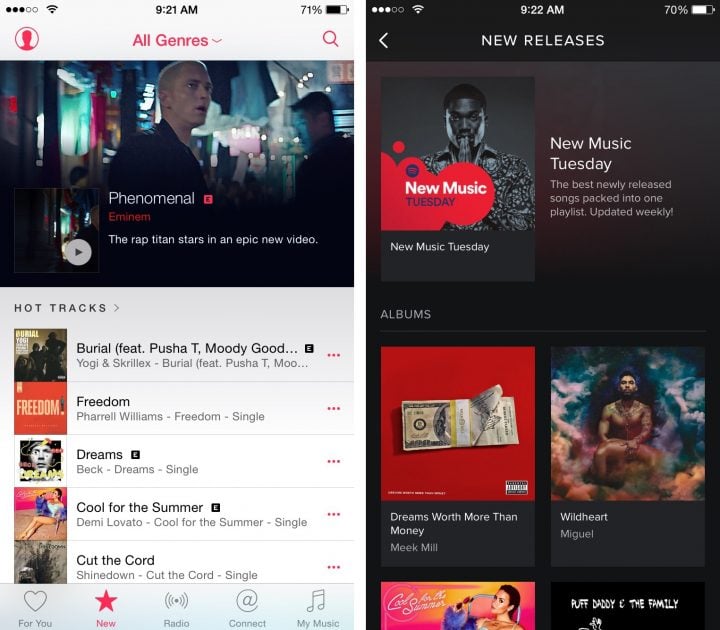 As for adding music to your library in Apple Music, it's kind of a joke. For example, it turns out that if you have one song from an album in your library, but want to add the full album, you actually have to remove the one song first and then add the whole album. It's incredibly annoying, and I'm just hoping it's a bug that Apple fixes soon.
We're also hoping that the Apple Music "Up Next" option not working with with in-car entertainment systems is a bug too. We're honestly not sure why it doesn't work, but with Apple's huge dive into CarPlay, we'd expect something like this to function with in-car stereos.
One thing I do like about Apple Music is that it almost always shows album art thumbnails next to everything, which adds a ton to the look and feel of Apple Music. This makes Spotify look a bit bland, but nonetheless, I prefer function over form.
In the end, Apple Music works, and it works decently, but that's not really enough when you have Spotify, Pandora, Rdio, and other music services to compete against. Hopefully Apple Music continues to improve, and if it does, I think it will eventually become a force to be reckoned with. For now, though, Spotify is still my go-to music streaming app.

This article may contain affiliate links. Click here for more details.