Why Spotify Looks Different for iPhone Users
iPhone owners who use Spotify should find the app easier to look at and the music they love easier to find following today's Spotify for iPhone update.
Spotify announced the complete visual refresh of its iPhone app, desktop app and web app and more early this morning. Spotify is banking on just three basic changes making user's experience more inviting than it was before.
First, the company has introduced a darker background theme to make the content users are looking at "pop." The app's refreshed buttons and icons have been redesigned to complement the new dark theme. Today's press release goes so far as to compare the new theme and design to that of a movie theater experience.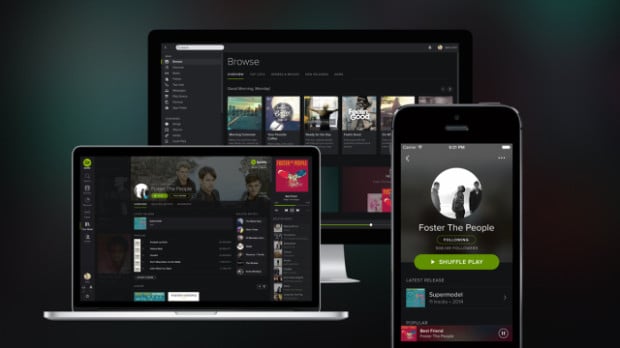 The app also includes a pretty nifty upgrade for Spotify for iPhone users trying to build a collection. Adding to each personalized library is just as easy as  hitting the save button. What's being called the Collection View will finally put an end to the endless browsing that users complained about in previous versions of Spotify. That's a huge change, one that puts Spotify on equal footing with services like Rdio, and Xbox Music. The new Your Music area now lets users instantly stash their favorite songs and albums without Specific artists and albums can now be saved for offline playback.
Unfortunately, these changes haven't come without any negative consequences. Spotify won't be encouraging users to use the Star system to quickly access their music going forward. Instead, it hopes that users will star their favorite songs only. Spotify released a short promotional video highlighting the changes it's made to its web app, iPhone app and desktop app this morning too.
https://www.youtube.com/watch?feature=player_embedded&v=V1I6-wv0p8k
Whether these changes will be enough to stay the world's most popular music subscription service is unclear. Apple, Google and Microsoft now have their own built-in music subscription offerings. That could leave users wondering whether it's worth it to pay for a service that isn't as tightly integrated with their smartphone.
Despite that kind of thinking, Spotify is only $9.99 and is available to users on practically every smartphone and tablet platform that users care about including Android and Windows Phone.
Spotify will roll out to the refreshed iPhone, desktop and web versions of their app today gradually.