Why the iPad 3 Will Have Siri

Apple is poised to announce the iPad 3 in early March. While there is plenty of speculation about the specs and the design of the next iPad, there has been little talk about the inclusion of Siri on the iPad 3.
Siri is Apple's assistant app that launched in October 2011 for the iPhone 4S. Siri allows users to ask the iPhone to do many things in the same way you would ask a real person.
So you can say, "Send a text to my wife," or "Read me my text message." If you want to find a place you can say "I'm hungry for Sushi." You can also get conversions, create reminders, schedule meetings and look up information on the web. Watch the video below to see more about what Siri can do.
https://youtu.be/5ba0tZ_P5cg
Why the iPad 3 Will Have Siri
Right now Siri is exclusive to the iPhone 4S, likely due to the special hardware that allows the iPhone 4S to "hear" better than the iPhone 4. This is built right into the iPhone 4S' processor.
The iPad 3 is rumored to use an enhanced version of the Apple A5 processor, with more power. It would be very surprising to see Apple remove this enhanced functionality from the iPad, especially considering the increased usage of the iPad for video chat and rumored connectivity options.
In order for Siri to work, your device must be connected to the Internet. It's easy for Apple to include Siri on the iPhone which will always be connected, but the iPad WiFi model wouldn't be able to use Siri while you are out and about. In the end, this may not be that big of an issue.
4G LTE iPad
Apple has always offered an iPad with cellular connectivity, so far only with 3G like the iPhone 4S. Apple has not released numbers, but surveys suggest that the sales of 3G iPads and WiFi only iPads is split almost 50/50.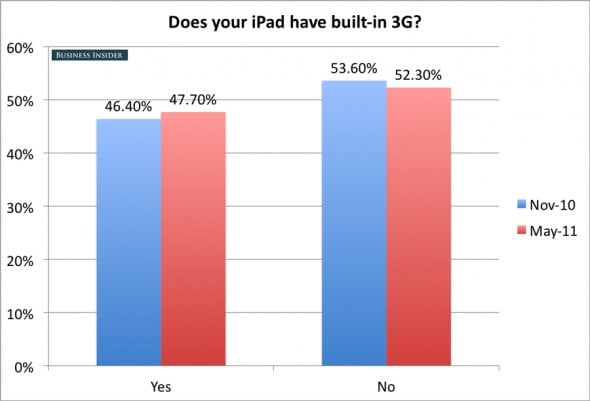 This time around we are hoping that Apple will introduce a 4G LTE iPad that can connect up to 10 rimes faster than 3G. This may increase the amount of users who purchase the connected option, even though it costs $130 more than the WiFi model. Personally I am more interested in a 4G LTE iPad because it would be better for streaming videos, one of my most common iPad activities.
This will mean that Apple would have a greater number of iPads that are always connected and able to use Siri while on the go.
iPads Most Often Used at Home
Of those users, who have a WiFi iPad, it is most often used at home. If I could pull up an activity log on my iPad it would rank the living room, bedroom and kitchen as the places I most often use my iPad. A survey from last december shows that many iPad users are like me.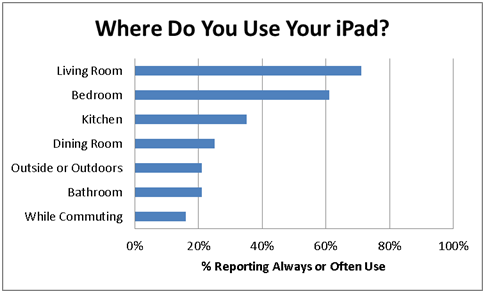 If these users take a WiFi only iPad 3 out on the road they won't have access to Siri unless they tether to an iPhone or Android, but I think most users will be ok with this trade off.
Siri Uses on the iPad 3
Given where we use our iPads, I think Siri will have an even higher use rate. Many people are still self conscious about talking to their phone in public; but at home, well that's a different matter.
In the living room, you can use Siri to look up who that actor in The Big Bang Theory is, creating a reminder to switch laundry before bed and much more. You can even use it to send an iMessage to your friends asking if they saw the hilarious Siri relationship Raj just started, and use this trick to Tweet about your show with Siri on the iPad 3.
In the Kitchen, you can use Siri to set a timer, look up a recipe or find a conversion, much like Apple shows in this video demonstrating Siri's abilities.
https://youtu.be/rNsrl86inpo
If you use the iPad at work, imagine using Siri to check your schedule for the day on the iPad, sending an email, setting up a meeting or checking stocks.
Why the iPad 3 Might Not Have Siri
While users will likely be OK with the limitations of not using Siri while away from WiFi on the cheapest iPad, I'm not entirely sure Apple will be OK with this compromise.
That said, I don't see Apple limiting Siri to the 4G LTE iPad 3 and creating more disparity between the devices.
—
We'll soon know if the iPad 3 will have Siri, as Apple is expected to announce the iPad 3 in early March, with an iPad 3 release date following shortly after.

As an Amazon Associate I earn from qualifying purchases.