Why the iPad 3 Won't Come Till Next Spring
No matter what the rumors say, there will never be a new iPad released in the summer, fall or winter. The two reasons include 1) the almighty dollar and 2) Apple's great and passionate love affair with it.
I'm not the guy who usually has strong opinions about this kind of thing, other than my strong annoyances at reading and sometimes even feeling the need to report Apple rumors. This rumor won't die because it ignores the facts and Apple's recent history.
Here are two reasons why I say the iPad 3 will not come until next spring.
Apple loves money!
Apple has more money on hand than the United States treasury. The iPad is a cash cow and only recently has Apple been able to keep up with demand. That won't change for the next year. And even though the iPad 2 will have been out for more than half a year, it will still be a top gift item come Black Friday and the rest of the Christmas shopping season. People will line up outside of numerous stores in hopes of getting them at $449 for the first fifty customers. We will post stories about where to get the best deal on an iPad and they will sell so many of them that Apple will make a killing selling iPad apps December 25 and beyond. The iPad doesn't need a new version to sell a ton of them.
On a related note, Android tablets will sell well too on Black Friday, and will slow down, then increase just before Christmas. Why? Because late shoppers will want to get a tablet for their husband, wife, son or uncle who has been begging for an iPad. iPads will be hard to get late in the buying seasons, so when the Best Buy blue shirt gal tells an unknowing grandma or clueless dad that the Android tablet is just as good, he or she will buy it thinking their loved one will be just as satisfied. On Christmas morning they will open the box and their heart will sink because there is no Apple logo. I think an Android tablet can be a good alternative but the majority of people who have not tested them out won't think so. They will see their new HP TouchPad or Samsung Galaxy Tab or ASUS Eee Pad Transformer 2 as Android-powered iPad wannabes!
All of which is to say that the iPad 2 will be selling out without a new release.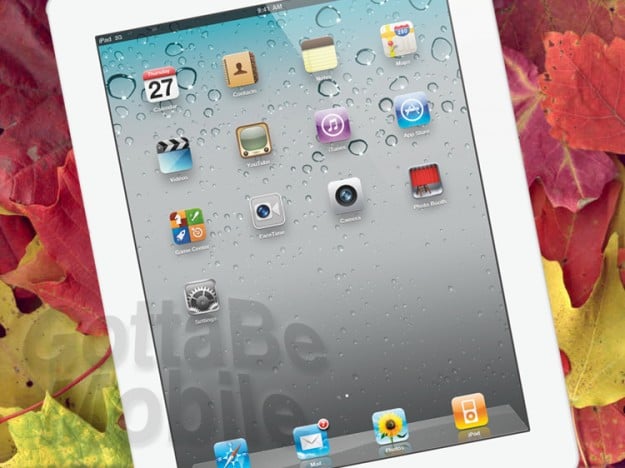 Apple loves money all year long!
Apple doest just love money at the holiday time! Releasing an iPad 3 – or iPad 2S, or whatever they call the next iteration – in March or early April, makes for a Christmas in spring financial windfall for Apple. It is late enough to not hinder holiday shoppers from picking up the iPad 2 (even the original iPad sold well months after the iPad 2 was released).
Moving the release time to this fall would put most of their biggest money products in that fourth quarter needlessly instead of spreading them out throughout the year. The iPhone release shifted to later in the fall because Apple released a second new iPhone for Verizon in the spring. Maybe they are having some manufacturing troubles getting this one right and want to avoid another antenna controversy like they had last summer with iPhone 4. The iPhone 6 or whatever they call it will shift back to next summer so that they have a big money item released in spring, summer and fall (iPods).
One argument states that Apple will need to stave off a popular new tablet from Amazon or someone else. That just hasn't been the case. And while even I think the Amazon tablet might have the best chance to compete with Apple, it will not beat Apple until the Android Honeycomb operating system is more mature and the market has a better selection of apps. The longer that takes the less likely it will help Android compete an a level playing field.
I am not as certain of the iPhone's move back to a summer release next year as I am about when the iPad 3 will show up on shelves. I'll continue to bet on it being next spring and you should too!

As an Amazon Associate I earn from qualifying purchases.