Why the iPad Air 2 is the First iPad I Won't Buy
Apple announced the new iPad Air 2 and iPad mini 3 at their press event on Thursday with a few new features, but not enough for some long time fans of the iPad to fork over at least $499 for an iPad Air 2 Wi-Fi only model. For the first time since 2010, the iPad Air 2 is the first iPad I don't plan to buy.
What's New
Let's first look at what's new in the iPad Air 2. Apple matched the three colors available on the iPhone with a new gold iPad Air 2 and iPad mini 3. In addition, they reduced the thickness to just 6.1 mm by taking out the air gaps between the layers that make up their display technology. That's how they shaved off a tiny amount to make the device thinner, and most likely lighter. That's 18% thinner than the iPad Air.
The display also gets a little less reflective with a new anti-reflective coating that's 56% less reflective than earlier versions. Why should anyone care? It means the iPad Air 2 will look better in direct lighting, like outdoor situations. Instead of looking like a mirror, users can see more of the content on screen while under bright lights.
The iPad Air gets faster with the A8X processor and a faster graphics chip.  Apple bragged that this translates to speeds 12 times faster than the earlier iPad. Despite the faster processor, which should suck more power out of the battery, the iPad Air 2 will still get up to 10 hours of battery life. A better graphics chip will also speed up things like games and video.
People use their iPad cameras more than most would think. Ever go to an event and see people holding up their iPad to take snapshots? Apple knows this happens and put an 8MP iSight camera on back with a fast f2.4 camera that also shoots in 1080P HD video. The f-stop figure means better shots in low-light situations, like an auditorium while a son performs at a piano recital or in a gym while a daughter shoots free throws in the big game. Apple gave buyers most of the features available in the iPhone 6 camera:
Burst mode – taking a lot of shots quickly
Time lapse photos – taking a bunch of shots over a long period to convert into a stop motion video
Slo-mo video – 120 fps video that gives a cool slow motion effect (half the 240fps of the iPhone 6)
Dual mics – one records sound while the other records background noise and filters it out of the recording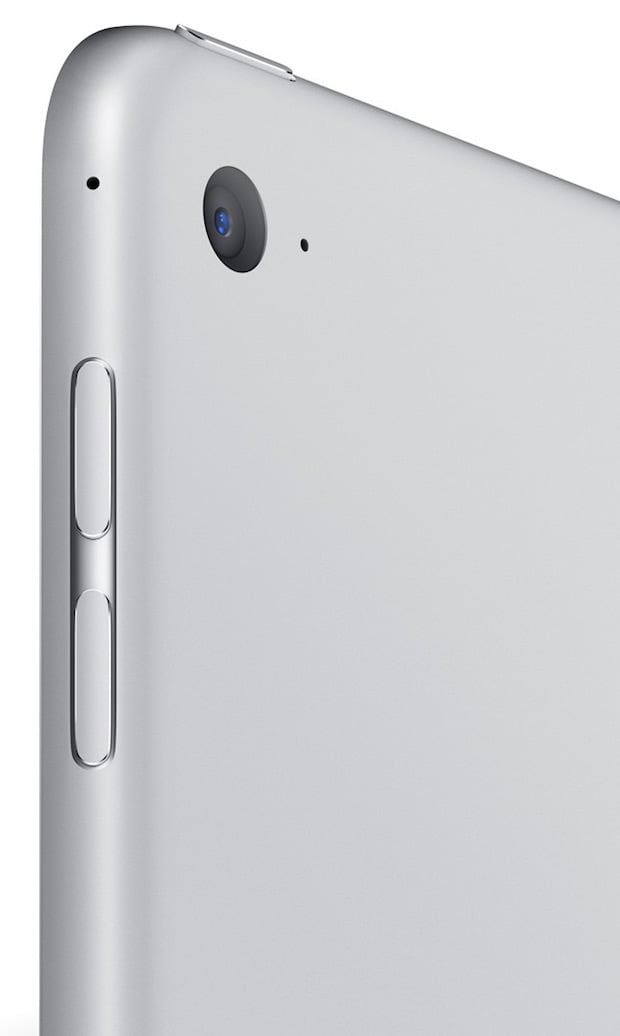 The front facing 1.2MP Facetime camera will also take good shots in low light thanks to an f2.2 lens. It also shoots 720p HD video.
Apple's slowly moving all their products over to the much faster 802.11ac Wi-Fi. We demonstrated the difference between the older 802.11 a/b/g/n and 802.11ac in a recent post.
The Apple Airport Extreme Base Station gives 802.11ac devices faster throughput, which results in faster speeds, particularly when transferring content between machines in the local network. The LTE in iPads will also speed things up.
The most tempting new feature comes from the Touch ID system and Apple Pay. This gives users greater security by using a fingerprint instead of a password. Apps that support Apple Pay will let users buy products with their fingerprint and the Apple Pay system, that will show up soon. On the iPad it only works for apps and online sites. There's no touch-to-pay feature available on the iPhone 6 and iPhone 6 Plus, which lets users touch their phone to a point-of-sale machine to pay for lunch or store purchases.
Why I Don't Plan to Buy an iPad Air 2
https://www.youtube.com/watch?v=BCqJGoCMlVc
Looking at the list of most significant changes, none of them compels me to grab an iPad Air 2. Touch ID and faster Wi-Fi looks attractive. Using my fingerprint to unlock my iPad, like the iPhone 6 Plus and 5s before it, is tempting. It's not worth the hassle of selling off an old iPad and then buying a new one for a few hundred dollars more than the sale price.
Apple prominently featured the new 6.1mm thinness of iPad Air 2. However, pencil thin works fine for me. I'll reserve judgment on this till after holding one, but a thinner iPad means lighter but also more fragile. Bendgate comes to mind. That's the controversy where iPhone 6 bent when people put it in their pocket. Even if the iPad Air 2 doesn't bend easily, the first gen iPad Air doesn't feel thick. I don't remember hearing anyone clamour for a thinner iPad.
As for a faster processor, the iPad Air doesn't feel slow. It's snappy and smooth running all my apps. Gamers might see a performance increase with the new graphics chipset and A8X processor, but that's doubtful until developers take full advantage of it.
Some people use their iPad as a camera for a lot of things, but my iPad camera is a glorified mobile scanner and that's about it. I seldom post them online and never print them. The iPhone 6 Plus camera will work perfectly. I'll shoot video on it and sync that video with my iPad if I ever want to edit it on the go.
My Airport Extreme Base Station has 802.11ac Wi-Fi so a faster Wi-Fi connection on my iPad might help on occasion, but most of the time I'm downloading content from the Internet and my speeds max out my Internet connection. In other words, my iPad's Wi-Fi is already faster than my Charter Internet speeds. That's likely the case for most broadband customers.
iPad Air Owners Should Hang Onto What They Have
There's nothing so compelling to make most iPad Air owners want to upgrade. This upgrade compares favorably to the way Apple updates their iPhones incrementally every other year going from iPhone 5 to iPhone 5s. Then they take a big jump in the next generation, like they did this year going from iPhone 5s to iPhone 6 and 6 Plus.
The only thing that might compel me to replace my iPad Air before it wears out is if Apple increases the screen size to a rumored 12-inch iPad more useful for productivity work. I'd jump at that upgrade. It's hard to imagine anything else that will compel me to sell my current iPad and get a new one anytime soon.

As an Amazon Associate I earn from qualifying purchases.