Why wait for a Windows 7 slate when you can get one now?
It's great that Steve Ballmer is getting people fired up about Windows 7 slates and that Microsoft is promoting the concept at their Worldwide Partner Conference. A lot of people seem very excited at the prospect of a slate running Windows 7. Here's an idea: if you're excited about Windows 7 slates, why not buy one now?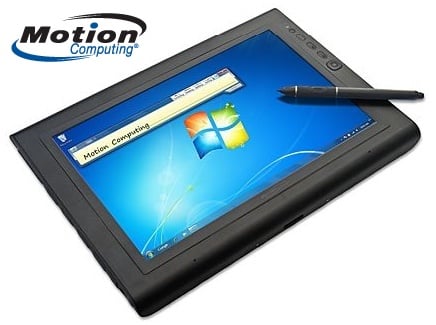 For all of Ballmer's bluster about being "hardcore" about Windows 7 slates, the fact is, we have Windows 7 slates now. You don't have to wait for prototypes. You don't have to wait to see what they'll look like later this year. There are slates running Windows 7 right now. Such as…
Motion Computing J3500: So glad to see Motion Computing on the big list of companies scheduled to release Windows 7 slates later this year. Perhaps that means another model to keep their Motion J3500 company. This is their rugged, top-of-the-line model with pen + touch display. If you think the iPad is a toy, then consider this an industrial strength tool. Check out our full review and InkShow on this tough and powerful slate running Windows 7 Professional.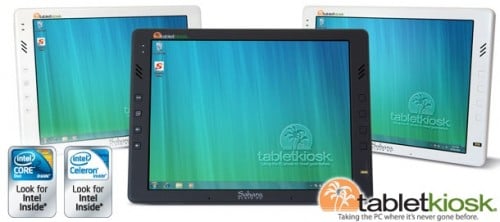 TabletKiosk: If ruggedness is not important and you just want a consumer-level notebook in slate form, then perhaps one of the slates from TabletKiosk will interest you. Their high-end model has a pen+touch, sunlight-readable 12″ display and runs Windows 7 Professional. Their line is a bit plain Jane, but their slates are backed by a broad line of accessories, from docks to expansion modules, that turn a TK slate into the core component of  a modular tablet system. If you need a slate tailored for specific needs, TabletKiosk caters to you.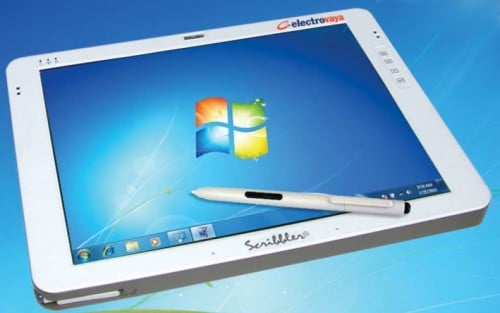 Electrovaya Scribbler 4100: This brand, I admit, does not live up to its former reputation, but it remains a sentimental favorite for me because the Windows-based slate that brought me into Tablet PCs was an Electrovaya Scribbler. Back in the day, their slates were packed with battery power. My SC500 boasted 140Whrs and 10-12 hours of run time. Today, their 4100 is more advanced – faster, bigger display (12″) at the same weight, and pen+touch digitizer – but it packs a conventional battery rather than the Electrovaya super-polymer one. Nothing particularly outstanding about this one, but it's a slate running Windows 7 Home Premium available now.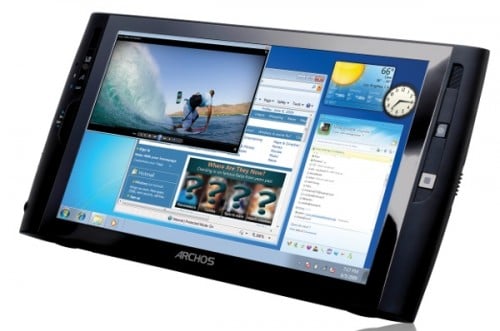 Archos 9: If you've clicked through on any of those options, you've noticed they're pretty pricey. That, alas, has been one of the great drawbacks of the Tablet PC. For something lighter and cheaper, there's the Archos 9 running Windows 7 Starter Edition. SE means it's in the netbook-class of computing power, sporting an Intel Atom processor and 9″ touchscreen. Are you going to be tearing through the latest 3D PC games on this thing? No, but it's a light and nimble Windows 7 slate cheaper than most iPads, which you can own right now. It's even available through Best Buy (at least online).
Allegiance Technology Partners: Okay, so you know there are Windows 7 slates out there, but maybe you're not ready to pull the trigger on one until you can try it first. Hey, we've known about that "won't buy it 'til you try it" problem for years, and Allegiance Technology Partners has a solution. They have a demo program that lets you try a Tablet PC for 48 hours and currently they have several Windows 7 slates ready for you to try.
Sorry if all that sounds like a sales pitch, but I have been trying to sell people on the idea of tablets for years. While the current hype is great, it somewhat pains me to see all the excitement over Windows 7 slates of the future when there are slates running Windows 7 available right now being completely overlooked. It strikes me a bit like waiting for a breeder to deliver you a newborn puppy when there are plenty of perfectly fine canines in need of homes. If someone really wants a Windows 7 slate, there's no need to wait. They've been around since Windows 7 was released.  Go ahead and get one now, just like I got my first slate more than five years ago and have been a proud tablet fanatic since.