Why Would You (Or Did You) Buy A 3G or 4G Tablet Instead Of Wi-Fi?
Industry analyst Chetan Sharma released a wireless market update report today that reveals, among other things, that consumers overwhelmingly preferred Wi-Fi only tablets to those with mobile broadband capability in 2011. This comes as no shock to us here at GBM.
Wi-Fi tablets are less expensive and don't come with 2-year agreements and ridiculous termination fees. Plus, customers currently can't share a data plan between their phone and tablet, meaning they need two data packages. Since it's no longer possible to buy a smartphone without activating a data plan while on contract, it makes more sense to go Wi-Fi for a tablet and get a mobile hotspot add-on for the phone.
(Read: Do You Really Need a 4G LTE iPad 3?)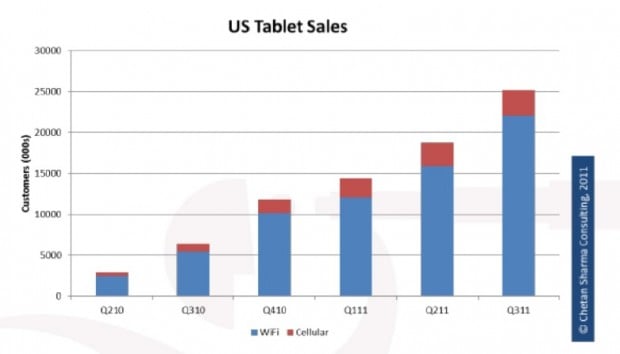 Back when the original Samsung Galaxy Tab launched with the major U.S. carriers the reasoning behind the move had a lot to do with distribution and marketing. Samsung wouldn't have to do it all alone – AT&T, Sprint, and Verizon would put their own muscle behind the tablets. Only months later did we get a Wi-Fi only version.
According to Sharma, that's not a major consideration. It certainly isn't for Apple. And notice that the majority of Android and other non-Apple tablets usually launch a Wi-Fi version first and maybe a carrier version after. There are some exceptions, obviously.
The thing that makes me curious is: why would someone buy a 3G or 4G tablet? What kind of people derive benefit from them?
I agree with Kevin C. Tofel of GigaOM that the majority of the mobile data tablets represented in Sharma's chart are probably iPads. With that tablet there's no subsidy and no commitment. You can turn data on and off as you choose without penalty.
This option is available for other tablets as well, such as the Galaxy Tab 7.7 at Verizon Wireless, but it means you have to pay a higher price up front ($699 instead of $499). Either way, what makes it worth the extra cost?
Tell us in the comments.