Why You Should Consider the Low Cost iPhone, Even If You're in the Market for an iPhone 5S
Even if you're in the market later this year for Apple's flagship and premium iPhone 5S, you may still want to consider its cheaper rumored cousin. Though a name hasn't been leaked yet for what the lower priced model would be branded as, consumers shouldn't dismiss this as a budget iPhone model for emerging markets for the primary reason of durability.
Apple has spent a considerable amount of time in researching and designing its flagship smartphones to stand out from cheaper Android alternatives, and the company had been successful at creating compelling designs that largely stand the test of time. Unfortunately, though, while the designs may stand the test of time, the phones themselves may not as Apple's choice of materials–primarily aluminum and glass–are not as durable for a device that's carried everywhere, everyday and has the risk of being dropped by consumers.
With a plastic iPhone on deck for this year, the cheaper model's material may help it withstand more abuse as plastic may be better at standing up to dings and drops. Whereas aluminum on the rear of the iPhone 5 can be dented and scratched, plastic would not show dents. And let's not talk about the fragility of glass–even if that glass is strengthened–as was seen on the iPhone 4 and iPhone 4S designs.
YouTube user DetroitBorg got his hands on a plastic shell for the low cost model and the design is rather good still for being dubbed an entry level phone. This means that you're not going to be sacrificing a lot on the design front.
Take for instance the iPhone 5, which launched late last year. Out of the box, a lot of consumers had noticed scratches that resulted from the manufacturing process, forcing Apple to increase its quality assurance standards. Even when housed in a case through normal day-to-day use, our own editors have noticed that the beautiful chamfered edge gets scratched and dinged up.
READ: Top 5 iPhone 5 Warranty Options Compared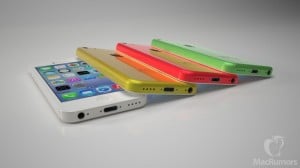 So in the end, plastic may be better at holding up to the tortures of normal daily use. Nokia had discovered this when it had switched to plastic for its Lumia series running on the rival Windows Phone platform from Microsoft. In addition to using plastic, the company injects coloring into the plastic process so that scratches won't show whereas other companies may only use color as a coat of paint.
Given that for many consumers, the basic specs of the entry level iPhone may still be good enough, a lower price and increased durability should be worth considering. The model will come with colorful hues, unlike the monotone flagship lineup thus far. Like the rumored iPhone 5S, the low cost model is expected to have a 4-inch Retina Display screen. It is also rumored to carry a 5-megapixel rear camera and a front-facing camera. It's unclear how much RAM and processing power Apple will inject into the budget model, but even with more conservative specs many of the apps inside the App Store will still run fine.

As an Amazon Associate I earn from qualifying purchases.