Why You Should Pre-Order the iPad mini
Those who are planning to buy the iPad mini for themselves or a loved one this holiday season would be smart to place an iPad mini pre-order ahead of its release date in November.
While the demand for the iPad mini, Apple's new 7.9-inch tablet, remains unclear, those who are planning to get order it as a gift for the holiday season or want the device on its release date would be smart to place a pre-order as soon as the device goes up for sale tomorrow.
The reason is simple. Apple products, especially its iPhone and iPad, are in high demand. Pre-orders for both the iPhone 5 and third-generation iPad both sold out on the first day of availability. While the iPad mini may not see the same kind of demand tomorrow, Apple is likely going to sell out of the device between tomorrow and the release of the iPad mini which is set for November 2nd.
Read: Apple Handling All iPad mini Pre-Orders.
If that occurs, it could mean that shipping dates will move back several weeks and stay that way through the holiday season. It took several weeks for the shipping dates for the new iPad to ease in the United States and the same thing could presumably happen with the iPad mini, and additionally, with the new iPad fourth-generation that goes on sale along with it tomorrow.
Those who don't want to risk missing out on an iPad mini for a gift this holiday season would be wise to place a pre-order, just to be safe.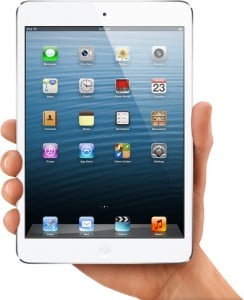 Unfortunately, as it stands, there is only going to be once place to pre-order the iPad mini. Sprint has told us that Apple will be handling all pre-orders for the iPad mini which means those who are looking to scoop up the smaller iPad will have to go through Apple's website when it becomes available.
Both the iPhone 5 launch and iPad fourth-generation launch slowed Apple's website to a crawl due to the amount of traffic, and it could be that the same things happens with the iPad fourth-generation and iPad mini tomorrow.
So, recommend that those pre-ordering bring a hefty dose of patience, in addition to their wallets, when the pre-order goes live.
Read: Samsung Galaxy Note 2 vs. iPad mini.
We've heard that Apple is better prepared this time around in terms of the supply of the iPad mini with the company rumored to have added Chinese-based Pegatron as an additional manufacturer to help shore up short supply. There are also conflicting reports stating that Apple may be faced with similar supply constraints it faced with the launch of the new iPad.
If the iPad mini does sell out, then those who were unable to order will have to brave retail stores in an effort to pick one up. And unfortunately, those are often hit or miss. And they'll probably only be worse given that November is the start of the holiday shopping season.
So while you may not think it necessary, heed our advice. Pre-order an iPad mini. Having peace of mind come November will be worth the trouble.