Why You Should Wait for the 2015 MacBook Pro
The last MacBook Pro refresh was earlier last year with a slight upgrade from the previous version, and now that 2015 is here, we look at what we could expect from the 2015 MacBook Pro, as well as why you should wait until it comes out if you're in the market for a MacBook Pro.
With the 2014 MacBook Pro, the processors saw a slight increase in speed, with the entry-level 2.4GHz Intel Core i5 boosted to 2.6GHz. However, the machines now have double the memory as a standard option, with the entry-level MacBook Pros now sporting 8GB of RAM instead of only 4GB.
More specifically, the entry-level 13-inch Retina MacBook Pro currently comes with a 2.6GHz Core i5 processor, 8GB of RAM and 128GB of flash storage for $1,299. This is the same price that it was before, so technically while it's the same price, it's a slightly better deal in the long run as you get more for your money.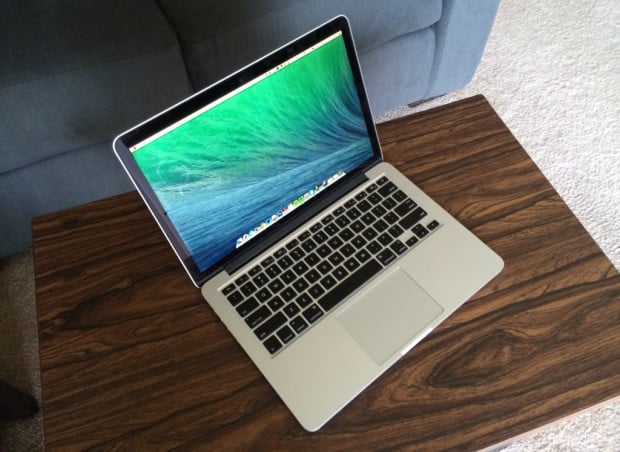 As for the 15-inch MacBook Pro, the entry-level version comes with a 2.2GHz Core i7 processor, 16GB of RAM and 256GB of flash storage. This also stays at the same price of $1,999. However, the upper-tier model has received a price drop of $100 and is now priced at $2,499 instead of $2,599.
These are just minor upgrades, though, and if rumors are true, the 2015 MacBook Pro will see a huge improvement over the previous model, which is why you should wait for its release if you're thinking about buying a MacBook Pro now.
Next-Generation Intel Processors
Intel has launched its new Broadwell Core M processors recently, and are aimed at ultrathin laptops.
It's rumored that Apple has been busy testing out these new chips and will hopefully put them in newer MacBooks this year, including the rumored 12-inch MacBook Air.
These new Broadwell Core M processors are designed to run at a ridiculously-low 4.5 watts, which if you don't know a lot about how much power processors use, 4.5 watts is crazy low. Thus, these new chips are destined for the next-generation MacBook.
Likewise, these new chips run at lower frequencies, which means they're a little slower than what most mid-tier processors run at, but the trade-off is way better battery life, although we'll most likely see higher-frequency chips in the MacBook Pro.
In any case, this means that the 2015 MacBook Pro could come with insane battery life. The 2014 model currently has a battery life of around nine hours, depending on what you're doing with it, but the 2015 model could beat that by a substantial amount.
Thinner Design
The MacBook Pro can only get so thin, but there's still a little room to chisel off some extra thickness.
While it's unlikely the 2015 MacBook Pro will see a design change and a thinner body, we wouldn't be surprised if Apple slimmed down its power notebook even further. The last time the company slimmed down the MacBook Pro was in 2012, so we could be in for some overdue overhauling with the design of Apple's laptop.
It's also possible that the MacBook Pro could come with a new USB port that was originally rumored for the MacBook Air, as it's been rumored that Apple could switch to the new USB Type-C standard.
The switch to the new USB Type-C standard is mostly because of the possible thinner design for the MacBook Air, although it's also killing two birds with one stone because Apple will now be able to use the latest and greatest USB standard. Furthermore, the new USB port could also come with DisplayPort functionality, allowing users to plug in displays through the USB port. This could cut down on the amount of ports needed on the new laptop, but this is still very much a rumor and isn't close to even being confirmed yet.
In any case it's possible that Apple could do the same with the 2015 MacBook Pro that's currently rumored for the 2015 MacBook Air, like getting rid of the SD card slot, maybe a Thunderbolt port, and possibly the HDMI port in favor of USB Type-C all around. We wouldn't expect the MacBook Pro to get the same overhaul as the MacBook Air as far as the port selection goes, but we wouldn't be surprised to see Apple make the MacBook Pro thinner by getting rid of some of the port options.
Touch ID?
With Apple's Touch ID fingerprint sensor now clearly a staple in the iOS device lineup, will we ever see that same technology make its way into MacBooks?
Touch ID was definitely one of the features that users were looking forward to ahead of the iPad Air event in 2013, especially after it was introduced on the iPhone 5s just a month earlier, but Apple sadly did not deliver such a feature just yet.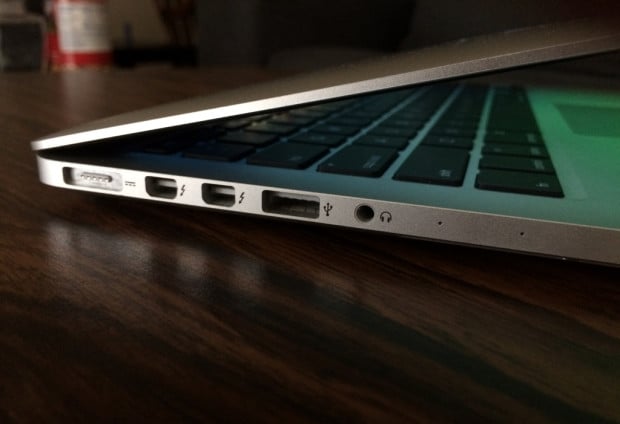 Technically, we weren't too surprised about this, as it's possible that Apple wanted the Touch ID technology to be around for a year or so and see how it did before expanding the feature to other iOS devices, but now that both the iPhone and iPad have Touch ID, it's turned into quite the popular feature.
One of the biggest reasons that the Touch ID fingerprint sensor is so popular on the iPhone 5s is because of the convenience it offers when unlocking your device and purchasing apps in the iTunes App Store. It's a lot quicker and easier than entering in your passcode every time, as well as typing in your confusing Apple ID password whenever you want to buy an app.
Touch ID on MacBooks is something that we wouldn't be surprised by either way. Touch ID is seen mainly as a mobile feature that makes it easier to unlock your iOS device, but that doesn't mean it wouldn't fit well with the MacBook Pro, as many users take their MacBook everywhere with them, so the idea of adding a more convenient security feature to the MacBook is something that makes sense.
Plus, there have been laptop makers who have integrated fingerprint sensors into their laptops in the past, so it's certainly not a far-fetched idea by any means.