Why You Should Wait for the HTC One M9
Now that the HTC One M9 has been officially announced, along with the new Samsung Galaxy S6 and S6 Edge, consumers are starting to weigh their options and are likely debating if it's worth waiting for what's next from HTC. And while there are many excellent phones available right now for those in need, below are a few reasons why the HTC One M9 is worth waiting for.
The HTC One M8 was announced and released almost one year ago, so many owners are nearing the upgrade phase of their carrier contracts, and are due for an upgrade if you own the original HTC One. With that, here we'll share a few reasons we think the HTC One M9 is one phone worth waiting for.
Read: HTC One M9 vs Nexus 6: 5 Key Differences
On March 1st HTC took the stage and officially announced the new HTC One M9 after months of leaks, rumors and speculation. It doesn't have a completely new design like many rumors lead us to believe, but it's still a highly improved flagship smartphone that should be on many buyers radar. It has a lot to offer, so lets take a look.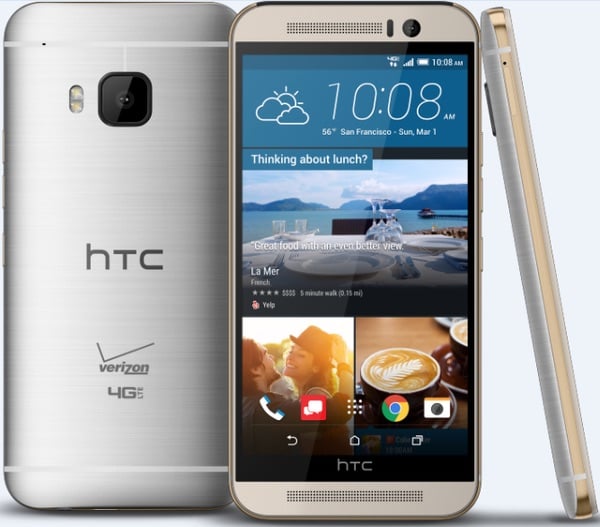 When HTC announced the new phone there were no surprises left thanks to a slew of leaked images and videos leading up to th event, so buyers should already have a pretty good idea of what to expect from the phone. We were hoping it would be released on March 1st, the same day it was announced like they did last year, but sadly that didn't happen.
Instead, the HTC One M9 release date is set for "mid-March" according to HTC, but that's all the information they've given. Meaning US carriers could deliver it around mid-March, or take longer and stretch the release into late March or early April. This was bad news as many buyers were hoping to get it on March 1st, but it's still coming soon, and worth waiting a few extra weeks for.
Display
The original HTC One had a decent 4.7-inch display and last year the new HTC One M8 was increased to 5.0-inches and offered a full 1080p HD screen. This year HTC opted to keep the same 5-inch 1080p screen size. And while some wanted something bigger, many buyers don't want a "phablet" and the HTC One M9 is the perfect size. Not to mention the 1080p resolution will get better battery life than if they increased in to 2560 x 1440 like Samsung did on the Galaxy S6.
HTC has always offered some of the best, most crisp, and amazingly stunning displays, and we expect the One M9 to have a great display. It should offer vivid colors, HTC puts in extra effort to have great viewing angles, crisp text, and an easy to view display even while outdoors.
This is one of the main reasons many will buy the HTC One M9, because they don't want a massive screen or poor battery life. The wait is only a few weeks, and maybe a little more, and getting the new One M9 over an aging One M8 or LG G3 is a good idea. We'd suggest waiting a few weeks before you buy.
Camera
Next up is the camera. The new HTC One M9 focused heavily on photography, and that's on both the front and the back. Last year the HTC One M8 had two cameras around back, but they weren't that great. Sure the Duo camera had neat focus effects, but the primary 4 Ultrapixel camera wasn't up to par with the 8 MP iPhone 6, or the 16 megapixel Galaxy S5 or Note 4 alternatives.
This year though, HTC has introduced a new 20.7 megapixel rear camera with a dual-LED flash, and moved that pretty decent 4 Ultrapixel camera to the front for selfies. Meaning it will take excellent photos from both the front and the back. Add in tons of software tweaks and the HTC Eye software update, and the One M9 should have a great photo experience, which is another key aspect of many buyers decisions.
Read: HTC One M8 Review
Our review of the new One M8 gave it a raving report, aside from one fatal flaw, which of course was the camera. Everything else was top-notch, and the only downside to the phone has been fixed in 2015 with the new HTC One M9. Making it an instant buy for millions.
HTC One M9 Power
A lot comes into play when someone is looking for a new phone. Some want the biggest display, best camera, or the latest technology. While specs aren't everything, they are important if you're spending $199 and signing a contract, so here's what that gets you from this new flagship device.
HTC One M9 Specs

5-inch 1920 x 1080p Full HD IPS Display
2.0 GHz 8-core Snapdragon 810 processor
3GB of RAM
32GB of internal storage and a micro-SD slot for expansion
20.7 MP rear facing camera and 4 Ultrapixel front shooter
Android 5.0.1 Lollipop and HTC Sense UI 7.0
Dual HTC Boomsound Speakers with Dolby 5.1 Audio Technology
Infrared Sensor for remote
2,900 mAh battery
more
When you compare that list above to the HTC One M8 from last year you'll notice a much better camera, double the processing power with more RAM to play games, multi-task, and be future-proof. There's more storage and a micro-SD slot, and of course battery life, which is out next topic.
Battery Life
One of the biggest problems for smartphones these days is battery life. This is something all manufacturers work on, but they can only do so much. Battery was perhaps the second biggest flaw of the One M8, and that should be much better in 2015. The screen and processor are more efficient, the battery is bigger, and it supports turbo charging with Qualcomm Quick Charge 2.0.
The HTC One M9 battery is 300 mAh bigger, the processor is extremely efficient, as is Android 5.0 Lollipop, and the processor under the hood has a technology that allows the phone to charge 60% faster when it's almost dead. The turbo charge feature promises around 8 hours of usage after just 30 minutes on the wall. That's something everyone can appreciate.
Shelf Life
Last but not least is shelf life and support. Those looking for a new smartphone right now may be tempted to get the LG G3, a discounted Galaxy S5, or even the HTC One M8 considering it looks so similar to the new One M9. However, the device is one year newer, has a brand new 8-core processor, and will be HTC's main device moving forward.
Read: HTC One M9 Release Date Breakdown
This ensures timely software updates, the latest versions of Android and new software tweaks, and it will receive support and updates for a year longer than most devices we just mentioned above.
As it stands right now the HTC One M9 release date is set for mid-March, but we're not exactly sure when US carriers will offer it. Either way, the release is about one month or less away, and all the reasons we mentioned are above are why we think it's worth waiting for. And don't get us started on Samsung taking away the micro-SD slot on the Galaxy S6. That alone makes the One M9 worth at least checking out as a prospective purchase in 2015.

This article may contain affiliate links. Click here for more details.