Why You Shouldn't Buy a Surface Pro 3 Right Now
Microsoft made waves with its original 2-in-1 strategy back in 2012. As Microsoft saw it, people would want something more than an impressive notebook and an impressive tablet. They'd want them both, in a single package with high-end finishes and a reasonable price tag. The Surface Pro and Surface Pro 2 didn't exactly deliver on that promise, but last year's  Surface Pro 3 did. That's a shame because it's a bad idea to buy a Surface Pro 3 now.
To be clear, it's only a bad idea if you have specific concerns. No major hardware issues have been found and Microsoft still sells the devices for the same prices that they launched at. Why you shouldn't buy the Surface Pro 3 now comes down to how long the device has been available, if there are any better options for your needs and whether you'd be better served by possible Surface Pro 4.
The Surface Pro 3 has been available for a Year
Microsoft first unveiled the Surface Pro 3 at an event last May. To be more precise, Microsoft announced the Surface Pro 3 in New York City on May 20th. Pre-orders were available soon after and the device arrived on store shelves on June 20th. The Surface Pro 3 with Intel Core i3 processor and 64GB of storage launched on August 1st.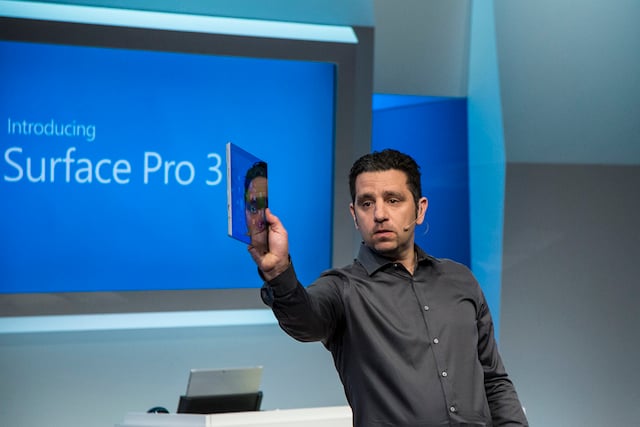 In short, the Surface Pro 3 is quickly approaching its one year birthday. Typically, Microsoft has kept to a one year upgrade cycle, making new Surface Pros available with new features and then slightly discounting the older models once the new model launches. It's entirely possible, even likely that we're weeks away from a Surface Pro 4 announcement and a discount on the Surface Pro 3. It's better to wait that out then to make a move now if the Surface' Pro 3's base-level $799 price tag is a bit too steep. Remember, you'll also need the $125 Surface Type Cover if you don't have a Bluetooth keyboard you prefer.
The Surface 3 is Here
There wasn't a lot of activity after last year's announcement of the Surface Pro 3. That makes sense, Microsoft says that the Surface Pro 3 was a hit. Things did recently pick up for the regular Surface line. Launching on May 5th is the Surface 3, an upgraded regular Surface that gives users a lot of the features of the Surface Pro 3, without the lofty price tag.
The Surface 3 sports a 10.8-inch high-definition display that makes it better than the Surface Pro 3 for reading. (The Surface Pro 3 feels a bit cumbersome in portrait mode.) Buyers of the Surface 3 can pick up a dedicated Surface Pen that lets them take handwritten notes, even when their device is asleep and locked. The free-range kickstand of the Surface Pro 3 isn't included, but Microsoft did add a third position and a new angle to the Surface 3 kickstand. In some ways, the Surface 3 is even better than the Surface Pro 3. It comes with a microUSB port for charging instead of a dedicated port. Who doesn't have a microUSB cable around?
Read: Surface 3 vs Surface Pro 3
It used to be that choosing a Surface Pro 3 was the only way to get Desktop app compatibility. Soon that'll no longer be the case. The Surface 3 includes an Intel Atom X7 processor that lets it run many of the same applications that the Surface Pro 3 does. Desktop apps like iTunes can be installed alongside Windows Store apps.
If you were in search of a Surface Pro 3 experience, but have a budget and other things to consider, the Surface 3 could a better option than buying a Surface Pro 3 now.
The Surface Pro 3 is Showing a Bit of Age
No, the Surface Pro 3 shouldn't be considered "last year's technology." That does mean there aren't some design choices and issues that might be fixed by a possible Surface Pro 4.
The Surface Pro 3 gets good battery life, but there are still devices that last a lot longer. A possible Surface Pro 4 could definitely improve upon that. The Surface Pro 3 continues to have two pretty terrible cameras by modern standards, Microsoft could make improvements to do that, like it did with the Surface 3. Heat generated by the Intel Core processors inside the Surface Pro 3 is also an issue.
With Windows 10 due for a launch sometime this summer, it's very likely that the Surface Pro 4 will be built specifically for the Windows 10 experience. Everyone running Windows 7 and Windows 8 will get the update for free within the first year, but things like Windows Hello – Microsoft's bid to make logins easier – will need hardware support. If you're always someone keeping your eye on the future, it's better to wait for a successor than to make a commitment to the  Surface Pro 3 now.
Again, the Surface Pro 3 isn't a bad machine at all. In fact, it's a very good machine. If you're fine with the device as it exists today, make the purchase, but before you slide your card think about whether you'll regret the purchase in a few months' time.

This article may contain affiliate links. Click here for more details.