Why You Shouldn't Buy the 2014 Moto X Right Now
The second generation Moto X (2014) was released less than one year ago, and is still an excellent smartphone for the money especially considering some recent price cuts. It's arguably one of the best phones in its price range, but the 2014 Moto X is a smartphone users should not buy right now.
Back in September of 2014 Motorola announced and released a new Moto G, the 2014 Moto X, and finally delivered the Moto 360 Android Wear smartwatch. It has been a popular smartphone over the past 10 months, has plenty to offer and tons of customization, but with a slew of new devices coming soon it would be a great idea to wait and see what's coming before buying it at the newly discounted $299 off contract price.
Read: Moto X 2015 Release: 5 Things You Need to Know
With better phones available like the Galaxy S6 or Galaxy S6 Edge, the impressive new leather-clad LG G4, and more, buyers shouldn't get the Moto X until we see what's coming from a few other manufacturers here in 2015. More importantly, next week two brand new Moto X smartphones are reportedly going to be announced and released. Read on for why we think buying the Moto X, right this moment, wouldn't be a good idea.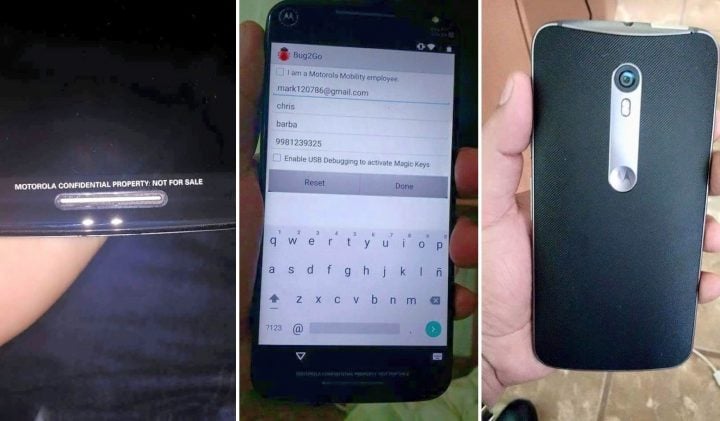 The Motorola Moto X from 2014 is a great device. It received an increase to a 5.2-inch 1080p full HD display, a powerful quad-core processor with 2GB of RAM, more storage, additional customization like over 20 different colors, wood backs, genuine leather and more. The company improved the camera, added a more premium and durable design with an aluminum ring around the device and more.
It was so impressive that Google even opted to essentially make a larger 5.9-inch Moto X with a few changes, and call it the Nexus 6 in late 2014. It's still an awesome phone with tons to offer, and will make owners happy for years to come, but with a replacement coming so soon no one should buy it today.
Of course there will always be another new phone coming soon, something else on the horizon we could use as an excuse not to buy a phone, but right now is crucial for potential smartphone buyers. That's because a new 5.7-inch Galaxy Note 5 is coming soon, possibly as soon as next month, two Nexus smartphones for 2015, and a first for Motorola, two Moto X variants. At least that's what rumors are telling us.
Above is the latest leaked image of the all-new Moto X 2015. We can clearly see a fancy new gold aluminum frame, along with a white back offering a new texture we've yet to see from Motorola. The original came in over 20 different colors, wood back were an option on Moto Maker, and even a few genuine leathers. This year we're expecting even more leather with different textures, and fabrics. Options including ballistic fiber like the DROID Turbo, Kevlar, and other materials we've yet to see or hear about.
However, that isn't the only important details about the Moto X for 2015. It's rumored to be a much better device even though it apparently looks very similar, the screen will be bigger, and for those who'd still like the small screen size a second Moto X Sport is reportedly in the cards for 2015 as well.
Moto X 2015 Details
No one should buy the 2014 Moto X right now because next week on July 28th the new Moto X for 2015 will be announced, and possible released. For months rumors have been speculating what is coming, but the last few days have been very telling and put most the earlier rumors to rest. Motorola does a great job keeping things a secret, but here's the latest details.
Moto X 2015 Specs (Rumored)
5.5-inch 2560 x 1440 Quad-HD AMOLED Display
8-core Snapdragon 810 processor with 4GB of RAM
32/64GB Storage with a micro-SD slot for user expandable storage
Android 5.1.1 Lollipop (then Android M)
16 Megapixel Rear Camera
5 Megapixel Front Selfie camera with LED flash
3,280

mAh

Battery
Dual Front Facing Speakers
Possibly a fingerprint scanner
USB Type-C Connector (rumored)
More
All reports and rumors this summer suggested the phone would have the same 5.2-inch screen as last year, only with a higher resolution. However, the image that leaked yesterday suggested otherwise. We're now hearing the 2015 Moto X will have extremely thin bezels to keep the physical size down, while increasing the screen size to 5.5-inches. See the photo below for the new screen, front flash, and more.
For now many of the questions buyers have remain unanswered. That said, July 28th Motorola will take the stage in New York City and reveal everything we've been waiting for.
Moto X Sport
Original rumors suggested a regular Moto X, then a bigger 5.5-inch Moto XL. However, after what we've seen and heard this week it looks and sounds like the rumors had it backwards. The new Moto X 2015 will have a 5.5-inch screen, but Motorola will still offer a 5.2-inch device, similar to the Moto X in 2014.
The image above is reportedly of the back of the slightly redesigned Moto X Sport, with a nice durable design and metal/rubber finish. This isn't the first mention of the Moto X Sport, but we still don't know too much about it.
From what we're hearing the new Moto X Sport will have a 5.2-inch Quad-HD display, and either the same internals as the Moto X mentioned above, or be a trimmed down model in terms of specs, but boosted everywhere else to make it as durable as possible, while keeping the price low. This could directly compete with the water-resistant Galaxy S6 Active, but we're not sure until Motorola announces everything next week.
This all said, both of these phones are very good alternatives to the current Moto X, which is why buyers should wait to see what is offered before buying last years model. Not to mention we could see a few more Motorola DROID phones hit Verizon Wireless.
Read: 2015 Moto X vs Moto X 2nd Gen: What to Expect
At the same time we're also expecting Google to release another Nexus 5 for 2015 with a 5.2-inch screen made by LG, which could be a good option similar in size to the Moto X, a bigger Nexus 6, and even a OnePlus Two is coming soon. The next two months will be very exciting for Android smartphone buyers, and there will be plenty of choices.
At the end of the day though, if the permanently discounted $299 off contract price of the 2014 Moto X interests you, by all means, pick one up. We could see even further discounts though, once the Moto X 2015 is announced next week. Stay tuned.