Why You Shouldn't Buy the Cheapest MacBook Pro
When shopping for a new MacBook Pro, many buyers may decide just to get the cheapest model, but that's actually not the best idea, and here's why.
The cheapest MacBook Pro that you can buy from the Apple Store costs $1,099, and it's a whole $200 less than the next model up. While you think you're saving money and getting a good laptop, you're not getting the best value if you go with the cheapest MacBook Pro.
First off, let's better understand the MacBook pro lineup that Apple offers.
The company introduced a thinner, Retina-equipped MacBook Pro back in 2012 and they have updated it several times a year ever since, with the latest upgrade being just a month old or so. These laptops start at $1,299 for the 13-inch model.
The $1,099 MacBook Pro doesn't have the Retina display or the thinner design. In fact, Apple stopped updating this model after it came out with the Retina MacBook Pro in 2012, but the company still sells it in the Apple Store as an "entry-level" model, even though it's more like a step below the entry-level model.
What does this mean then? The $1,099 MacBook Pro is outdated, and the last time it was even touched by Apple was almost four years ago, meaning that if you buy the cheapest MacBook Pro today, you're not really buying something that's brand new, but rather is nearly four years old, which is an eternity in technology years.
The processor is a 2.5GHz dual-core Intel Core i5, which is just a smidge slower than the Retina MacBook Pro's 2.7GHz, but the newer technology is missing in the older model, namely power consumption capabilities that allow the newer MacBook Pros to accomplish a 10-hour battery life while the $1,099 MacBook Pro can only muster up 7 hours.
Furthermore, the cheapest MacBook Pro only comes with 4GB instead of 8GB, and the graphics are several generations old. Plus, while it comes with more storage space, it's not flash storage, meaning it's way slower than what the Retina MacBook Pros offer.
But you might be thinking, "I can just customize the cheaper Mac and add more RAM and flash storage to it on Apple's website." You can certainly do this, but it'll cost you more money. In fact, bumping up the RAM to 8GB and upgrading to 128GB of flash storage will cost you a total of $1,349, while the Retina MacBook Pro already has all of that and more for only $1,299.
So if you're in the market for a new MacBook Pro, you're much better off spending an extra $200 for the entry-level Retina model, rather than the cheapest MacBook Pro that Apple offers.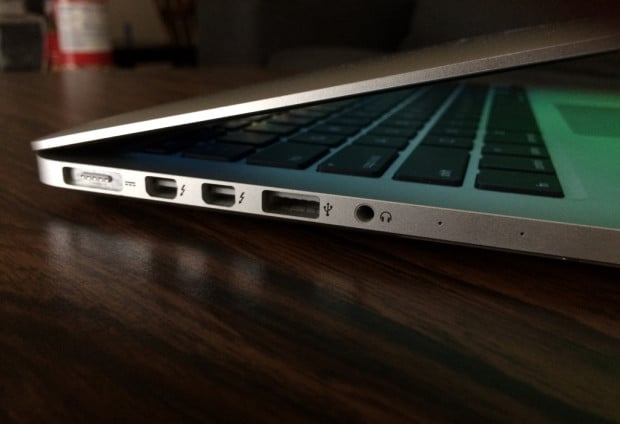 In fact, it's probably best to buy a new MacBook Pro while you can, as the future of the machine could be in for some major changes. Apple released its new MacBook earlier this months, which comes with a thinner and lighter design, but also only has two ports, one of which isn't really widely used just yet. It also comes with a new keyboard that has less key travel when you press down on the keys, which you could get used to over time, but many users prefer a more beefier keyboard.
Of course, I'm not saying that these changes will eventually come to the MacBook Pro, but it seems likely that Apple is moving in that direction. This means that if you're wanting to buy a MacBook Pro, it might best to do it before the next MacBook Pro comes along, because it could see a drastic change. And once you're ready to buy, it'd be best to opt for the $1,299 Retina MacBook Pro in order to get the best value.

This article may contain affiliate links. Click here for more details.