Why You Want a Windows Tablet Over an iPad
Today, most tablet buyers pick up an iPad. It's easy to see why; Apple's tablets have a lot of things going for them. The ease people can load their iTunes media. A wealth of different cases and other compatible accessories. Users should expect a decent experience from the iPad. But late as it may have been to the tablet party, Microsoft's Windows operating system is also a decent – and in some cases better – choice for users who need a tablet.
Windows Tablets Come In Different Form Factors
There is nothing wrong with Apple's iPad and iPad mini devices if you like the screen sizes the company sells. Microsoft's choices trump the iPad with the sheer amount of choice users have. There are slate tablets with 10-inch and 11-inch screens designed to compete directly with the iPad like the HP Omni 10. There are also tablets with 8-inch screens like the Dell Venue 8 Pro that compete against the iPad mini.
2-in-1s, laptops with 10-inch screens that have detachable keyboards or keyboards so thin they can be folded behind the device's display and still be used comfortably as a tablet also exist in the Windows ecosystem. These give users the form factor they need for every situation. The Dell Venue 8 Pro can be paired with an extra keyboard for desktop productivity. There's also a stylus for serious note takers.
The point is simple. With the iPad there are two options and two options alone. Users can purchase Windows tablets in different shapes and sizes with integrated accessories that make them better.
Windows Tablets Are Cheaper
There's no getting around the iPad's lofty price tag. $399 gets an iPad mini buyer 16GB of storage space. That's it. Users have no way to expand that storage either. By comparison, the Dell Venue 8 Pro costs  just $249.99 for a device with an 8-inch display and 32GB of storage.
Likewise a 64GB Dell Venue 11 Pro with 64GB of storage costs $499.99. That's $200 more than what an iPad Air with 64GB of storage would cost a new tablet buyer. To be clear, neither of these machines use Windows RT, the operating system that prevents users from installing desktop apps in exchange for better battery life. Instead, they both feature a full version of Windows 8. That means users can bring all of their desktop apps with them as well as download apps from the Windows Store. Almost every Windows tablet on the market can even install iTunes.
Many Windows tablets also include a free copy of Microsoft Office, giving users the world's premiere productivity apps at no additional cost. This isn't some watered down version of Microsoft Office either, it's the Desktop one that users know and use in droves, and they can plug in a mouse and keyboard to use it the way they have in the past.
Windows Tablets Have Windows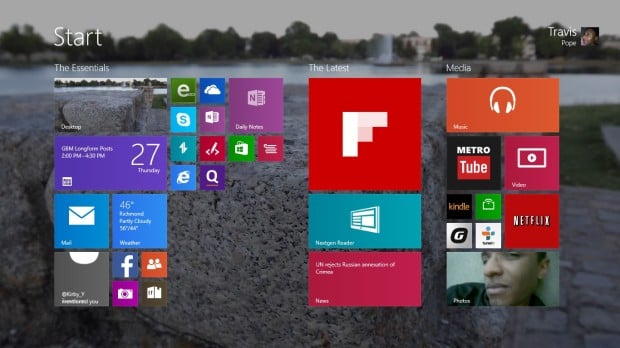 For better or for worse, Windows 8 is an operating system that incorporates the experiences of past versions of Windows with what users expect from today's devices.
On the surface that might sound a bit superficial. After all, typically software falls apart when it tries to do too much at the same time. I'd argue that Windows 8.1 strikes a decent balance between the two. Desktop apps are back, and while they don't provide the most ideal interface for tablets, there are millions of them, all available for anyone to download for free. That means versions of Google apps like the Chrome Web Browser, iTunes and more are available to the majority of Windows tablet buyers. Backing up those apps is the new Windows Store. It houses everything from the latest mobile version of Grand Theft Auto to Microsoft's OneNote notebook utility.
Windows is Windows, and while that means that users will always need the built-in virus protection running on their tablet, it also gives them a huge advantage over the iPad.
Nearly every Windows tablet in existence includes a full-size USB port. Those that don't have the port include an adapter that gives users a full-size USB when they need it. It's because of this that things like specific compatibility and an accessory program aren't needed. Any microphone that has a USB plug can be used on a Windows tablet. Any printer that works on Windows can be plugged into a Windows tablet. No software extras, no overly complicated program that requires users to do a lot of research before picking out their printer like with AirPlay. Stuff just works.
Finally, every Windows tablet supports multiple users. By creating a child account user's documents and settings are protected from their children. That means that the entire family can use a single Windows tablet without having their documents disappear or background changed by little inexperienced hands.
Read: Windows 8.1 Review
It's for those reasons that Windows 8 tablets make a better investment for casual users than the iPad. Again, it's not that the iPad isn't impressive. It is. However, Windows tablets come out on top in every category that I believe users care about, like productivity, app selection — if you prefer the Desktop — and device selection. Step away from the iPad and buy a real tablet.

As an Amazon Associate I earn from qualifying purchases.