WiFi Only Samsung Galaxy Tab Coming to Best Buy for $499
Looks like Best Buy will be offering the Samsung Galaxy Tab in several flavors in just a few weeks. Pocketables picked up some info and some ad copy that says Best Buy will offer a WiFi only version for $499.99. They will also be offering a Verizon 3G enabled version and a Sprint 3G enabled version. According to the ad copy it looks like both might be available with month-to-month options as well as with a contract. Expect those prices to fall in the "and up" category. Also note, as Engadget points out that no one has heard of the Galaxy Tab having a Super AMOLED screen. From what we've heard it is a Super TFT LCD.
Verizon puts its version of this on sale on November 11 for $599. Sprint appears to be following along on November 14.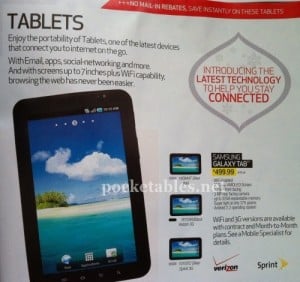 This article may contain affiliate links. Click here for more details.