Will a Future Galaxy S Smartphone Use Samsung's 'Youm' Technology?
Much have been discussed about flexible displays in the last several years and Samsung had really made a big display of its flexible screen technology at the Consumer Electronics Show last year in 2011, but now it looks like we're getting closer to a commercialized version of the the screen that may make it into the next generation iterations of consumer electronics devices. Samsung is branding its bendy, twisty screens as the 'Youm,' and the screen technology is based on an AMOLED panel underneath, so we can expect to see similar vibrancy to Super AMOLED and Super AMOLED Plus devices on Samsung's mobile products today.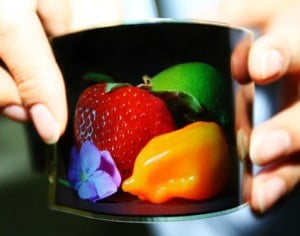 The good thing about the Samsung Youm display is not just the fact that you can bend and twist them, but they can still be used in traditional non-flexible context and offer advantages to displays today. Not only are the Youm screens lighter and thinner, they are also virtually unbreakable leading to a strong display. Additionally, manufacturers can create beautiful curved screens that wrap around devices and enable new and more enticing form factors for devices in the future.
Youm encompasses four layers that help it achieve its unbreakable status while offering flexibility, including a polarizer layer, a film layer, an organic layer, and a TFT layer.
According to OLED-Display, Samsung will start mass production of Youm this year, and hopefully we can begin to see this technology in devices in 2013. Whether Youm will arrive in a smartphone or tablet product from Samsung Mobile is unclear at this point, but the technology is certainly there should Samsung want to pack this new display in a Galaxy Nexus or Galaxy S flagship of the future.

As an Amazon Associate I earn from qualifying purchases.