Will Apple Expand iOS, A5 Chips Into Wireless Airport Routers?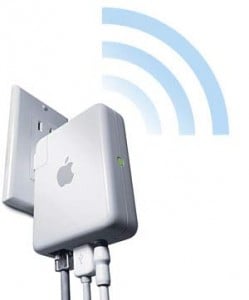 In addition to using its A4 and A5 chipsets along with the mobile iOS platform on products like the iPhone, iPod Touch, iPad, and Apple TV, Apple may be expanding its proprietary ARM chips and iOS into the wireless router market, potentially introducing new hardware with better iCloud integration.
It's unclear if updated Time Capsule wireless backup solutions and Airport stations would be given a refresh at WWDC, an event that's largely software-based to focus on iOS 5 and Mac OS X Lion. However, stock shortages of these hardware solutions are leading some to speculate that Apple may have ended production of the current-generation hardware in preparation to launching new hardware, potentially later today at 10 AM Pacific Time at Steve Jobs' WWDC keynote in San Francisco, California.
A powerful A4 or A5 processor in a Time Capsule or Airport wireless router, along with iOS 5, could help Apple in a number of ways, including simplifying the update process for iOS and apps for iPhone and iPad owners, as well as integrating the products for better iCloud service.
Better Updates
Apple could use its routers to pre-cache iOS and app updates so that users can quickly update their devices with the pre-downloaded updates. The process can also be integrated with the OTA updates rumored for iOS 5. Along with pre-cached iOS updates, the new system can also do the same for OS X updates and app updates for Apple's Mac App Store as well.
iCloud Integration
Additionally, Apple could use its Time Capsule hardware to cache content from iCloud or potentially to store older Time Capsule updates to iCloud as well.
The iOS software for Apple's router business is said to be heavily modified so that it would function for specific, envisioned purposes, rather than allowing users to install and utilize apps.
WWDC Introduction?
It's unclear if Apple will introduce these products at WWDC, but recent inventory shortages suggest that their refresh may be coming soon.
Via: ArsTechnica

As an Amazon Associate I earn from qualifying purchases.