Will Facebook Be Skype's Tipping Point for Ubiquitous Mobile Video Calls?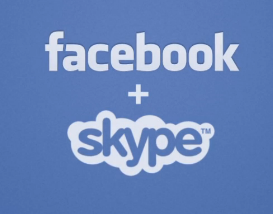 On Wednesday, Facebook announced, along with its integration with Skype for video calls and chat, group chat with archived conversation history saved to your Facebook messages, and the ability to see your friends list for chatting organized based by whom you message most. The highlight of the announcement, however is video chat integration with Skype, which will now allow users to connect to each other through video calls either via the Skype application, currently available for Windows users, or on the browser by logging into Facebook and clicking on the video icon next to your friend's name in the chat list.
According to Facebook, video chat will now reach over 750 million Facebook users in over 70 different languages. The service will begin to roll out over the next few weeks, but eager chatters who want to show their friends, family, and network their presence and video mug can also access the feature now through Facebook's link.
Though the service is now currently available on the PC, it raises important speculations for the future of Facebook, Skype, and video calling on mobile platforms. Currently, Skype video calling is available on the iPhone 4 on WiFi and 3G and through select Android handsets with front-facing cameras. Though promised by Verizon Wireless through the carrier's partnership with Skype, the video calling service was to grace Verizon's 4G LTE handsets, but to date we haven't heard much in terms of exact availability. Perhaps, with the Facebook push and the sheer volume of Facebook and Skype users on the combined services, we'll eventually see the realization of a cross-platform chat service that works on mobile broadband networks and has a vast enough user base to be a worthwhile competitor to FaceTime.
Currently, the limitation with third-party video chat apps like Fring, Qik, and Tango, is that most of them don't work with PCs and Mac users, though they're cross-platform when it comes to mobile. Also, with smaller, user bases, it requires both calling parties to sign up for the same free calling service and be logged on at the same time on their smartphone. The process isn't quite as seamless as Apple's FaceTime on iOS.
Hopefully, with Skype integration, Facebook can truly push mobile video calling mobile and create a ubiquitous, cross-platform calling solution in the future that either is always-on in the background as to not require a perfectly timed log-in from both calling parties to initiate a video call, or will allow for push notifications, like how Skype is operating on iOS, to notify users of an incoming call and allow them to answer the call without having the service constantly running in the background.
As Skype has so far been slower to adapt to mobile, hopefully Facebook will be the push that the company needs and gets as it moves into the smartphone space.
Though Facebook and Skype did not announce a mobile solution at the announcement on Wednesday, hopefully the partnership will allow users to call iOS, BlackBerry, Android, Symbian, and Windows Phone owners in the future.