Will Lenovo Break Into U.S. Smartphone Market With BlackBerry Acquisition?
Lenovo's CFO has spoken out about the possibility of his company acquiring all or part of struggling Research in Motion, which hoping to make a come back with its upcoming BlackBerry 10 launch. If Lenovo does strike a deal to acquire all or part of Research in Motion, the opportunity could help the rising Chinese computer-maker make a strong entry into the competitive U.S. smartphone space with a potential 'ThinkBerry' smartphone, combining Lenovo's ThinkPad brand and RIM's BlackBerry moniker.
"We are looking at all opportunities–RIM and many others," Lenovo's CFO stated. "We'll have no hesitation if the right opportunity comes along that could benefit us and shareholders."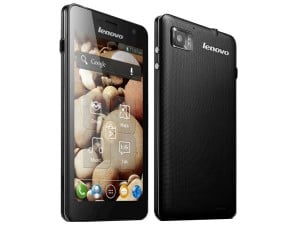 Lenovo currently already makes smartphones and tablets running Google's Android operating system. However, many of those mobile efforts are designed for the Chinese market and Lenovo's phones haven't been sold, thus far, in the U.S. If such a deal does go through, it's unclear how Lenovo will be received in the U.S. Lenovo's other Chinese rivals, ZTE and Huawei, have attempted to break into the U.S. market and both have been accused by the U.S. government of conspiring for the Chinese government. Though ZTE and Huawei do sell phones in the U.S., they're limited on what they can do as far as bidding to build network infrastructure for American carriers.
Research in Motion new leadership has stated that the company is opened to the possibility of licensing its mobile OS. The move would be new to RIM as it has operated more like Apple in the past, marrying software and hardware together. However, more recently, comments from CEO Thorsten Heins also suggest that his company would also consider selling off its hardware business and splitting the company up into two. This would allow RIM to operate like Microsoft or Google and focus on the software aspect.
RIM has so far not commented on Lenovo's suggestive comments about an acquisition. In the past, companies such as Nokia, Microsoft, and Amazon have been rumored to be eyeing RIM for an acquisition.
Lenovo had rose to prominence in the PC space by acquiring IBM's ThinkPad brand.

As an Amazon Associate I earn from qualifying purchases.