Will Mid-Cycle iPad 3 Refresh Debut With FaceTime Camera, Bonded Display?
Apple may announce a refresh of the third generation iPad refresh, which is a mid-cycle update, at the same media event that will host the highly anticipated debut of the 7.85-inch iPad Mini later this morning in San Jose, California. Previously, it was rumored that Apple would provide a mid-cycle update to the current third generation tablet, which debuted earlier this year in Spring, to add a Lightning connector and allow it to offer parity with the docking standard across all iOS devices spanning the iPhone 5, latest iPod Touch, the iPad Mini, and even the third generation refreshed iPad. However, the third generation iPad may get even more updates from a hardware perspective, with rumors of a Facetime HD camera and a bonded display making the cut.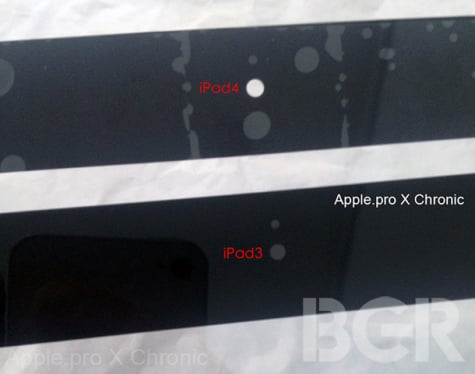 This wouldn't be the first time that Apple has quietly made a mid-season update to its tablet. When the company announced the third generation iPad, it had also quietly updated its iPad 2 with a more efficient A5 processor based on the 32 nm manufacturing standard, which gave the new and updated iPad 2 improved battery life.
The bonded display would allow the third generation iPad, with its Retina Display resolution, to offer similar color vibrancy as the iPhone 5 and better visibility of the display under bright outdoors conditions. The iPad's display has been a source of criticism among readers of e-books who enjoy reading outdoors. In early commercials from Amazon highlighting the Kindles with e-ink display, the Kindle manufacturer had lambasted the iPad's display for poor readability under direct sunlight.
The Facetime HD front-facing camera would be another hardware feature that would allow Apple to offer parity in basic specs between its iOS devices as the camera has been a highlight with the latest iPod Touch and the iPhone 5.
According to a report on BGR, the publication speculates that these features–the bonded display, Lightning connector, and Facetime HD camera–would most likely appear on a refreshed third generation iPad, but the site does not exclude the possibility that these hardware specs may not appear until the debut of the rumored iPad 4 coming next year, likely at the Spring refresh.
Also rumored for this update is improved 4G LTE support, potentially with a world chip that would support multi-carrier LTE frequencies on a single model, negating the need for a multi-model tablet depending on the carrier.
All this information is still considered speculation at this time and we'll find out the truth soon enough.