Will My Mac Support OS X El Capitan?
OS X El Capitan was announced and unveiled earlier this week during Apple's WWDC keynote, but perhaps the biggest question that you might have is whether or not your Mac will support the new operating system.
Apple is notorious for discontinuing software support for older devices whenever they release a newer version of an operating system, whether it'd be OS X or iOS, so it's certainly not out of place when users are asking whether or not their devices will be able to support the latest and greatest software.
OS X El Capitan keeps the same overall design and look of OS X Yosemite, which isn't too surprising, but the new operating system comes with a handful of new features that users will love.
Perhaps the best feature coming to OS X El Capitan is a new split-view mode that lets you use two applications at once. It's a lot like Windows' own Snap feature tool that lets you quickly and easily put two windows side-by-side so that you can view them both at the same time.
There are also improvements to Spotlight Search that include more accurate results, as well as better and more helpful results when searching for something. It can also detect more natural-like language when you type something in, like "emails I ignored from Phil."
There are undoubtedly a slew of other smaller features that Apple added to OS X El Capitan, and the company only spent about 10 minutes discussing the new features during its keynote. However, if you're wanting to upgrade to the newer version, but aren't sure if your Mac will support it, here's a list of Macs that will support OS X El Capitan when it launches later this fall.
OS X El Capitan Mac Support
To figure out if your Mac will support OS X El Capitan, all you have to do is look at the support list for OS X Yosemite. In other words, if your Mac is running OS X Yosemite right now, then it can also run OS X El Capitan without a problem.
The new operating system likely doesn't have any major backend changes in the code that's severely different than OS X Yosemite, which is probably why Apple has said that any computer that supports OS X Yosemite can also support OS X El Capitan.
Below is a list of Mac computers that will support OS X El Capitan when it releases in the fall.
iMac (Mid-2007 or newer)
MacBook (13-inch Aluminum, Late 2008), (13-inch, Early 2009 or newer)
MacBook Pro (13-inch, Mid-2009 or newer), (15-inch, Mid / Late 2007 or newer), (17-inch, Late 2007 or newer)
MacBook Air (Late 2008 or newer)
Mac Mini (Early 2009 or newer)
Mac Pro (Early 2008 or newer)
Xserve (Early 2009)
How to Look Up What Mac You Have
Some Mac users know what kind of Mac they have and what model year it is, but if you're one who has no idea, there's a quick way to find out.
Simply click on the Apple logo in the top-left corner of the screen in the menu bar. From there, click About This Mac. From there, you'll see what kind of Mac you have, as well as what year it was made. This is the information you'll need to see if OS X El Capitan will work on your computer.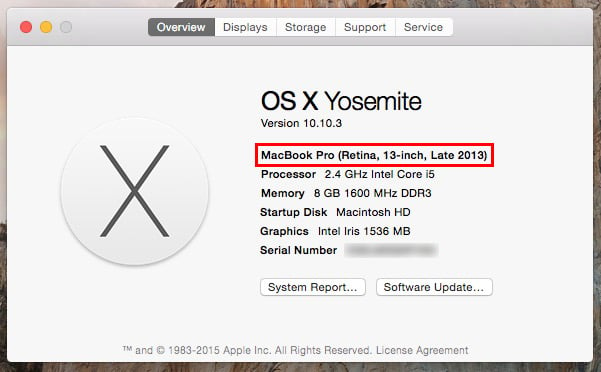 Of course, the above list is merely just the minimum requirements, and even if your older Mac supports OS X El Capitan, it might not run marvelously.
So what are the preferred system requirements for OS X El Capitan? There's really no set specifications that Apple recommends. Truthfully, the newer and faster your Mac is, the better it'll run OS X El Capitan. That may seem pretty obvious, but it's worth keeping in mind if you have an older Mac.
However, the great thing about older Macs is that you have the freedom to upgrade some of the hardware, including RAM. Giving your older Mac a RAM boost or even swapping out the hard drive for a solid-state drive can seriously speed it up and get it to run OS X El Capitan like a champ once it releases.
Unfortunately, newer Macs are more locked down than older Macs, which means you can't upgrade them yourself, but that shouldn't be a problem since the performance with be there with a newer Mac. However, down the road you'll have to think about what to do when it eventually becomes old.