Will Nokia's Free Nicki Minaj Concert Actually Sell Any Lumia 900's?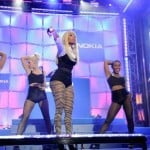 The Nokia Lumia 900 made a splash over the holiday weekend, with Nicki Minaj headlining a party in Times Square to celebrate the latest Windows Phone. Thousands of people cheering for a Windows Phone might look like a raging success at first glance, but the crowds weren't there for Nokia or Microsoft. They were there to listen  to a pop star.
Nikki Minaj performed for all of 15 minutes after crowds waited hours to see her perform. Nokia went all out with this promotion, renting nine Times Square LED billboards as a backdrop for the unveiling of a remix of one of Nicki Minaj's latest songs.  The end product was a music video that the included a passing glimpse at the Lumia 900.
https://www.youtube.com/watch?v=abyYIHAGQ8M
Awesome! Thousands of people cheering for the Lumia 900 and Microsoft's mobile operating system…right? Wrong.  It's fantastic to see Microsoft and Nokia putting serious money behind the new flagship phone, but stunts like this overshadow the technology and do little to sell gadgets. Sure, marketing wonks will throw around catchphrases to 'prove' the event was a raging success, but all the mindshare and goodwill doesn't matter if you don't see the effort all the way through. As Brian Chen from Bits observed, there was only a single table of Lumia 900 phones on display at the event. On Easter Sunday, the official Lumia 900 launch day, the phone wasn't available for purchase at AT&T stores within five miles of  Times Square. That seems like a real missed opportunity.
I'm not sure how much Microsoft influenced this event, if at all, but the Times Square event reminds me of Microsoft Store openings. Microsoft store openings are often accompanied by free concerts, drawing throngs of young people who just love fre stuff. Above is an example of what happens when Microsoft spends too much time promoting musical talent and not enough time showcasing its products.
I completely understand that a crowd cheering for anything makes Nokia and Microsoft feel warm and fuzzy. But what they really need to do is to get millions of people to care about the Lumia 900 as much as they care about Nicki Minaj. The Lumia 900 is a very nice phone that earned a Best of CES Award  and doesn't need to hide behind smoke and mirrors.
A week from now people that attended the Nokia event will likely be talking about how awesome Nicki Minaj's performance was rather than the Lumia 900. It's time for Nokia and Microsoft to sell people on the Windows Phone experience and ditch the gimmicks.

This article may contain affiliate links. Click here for more details.