Will Quad-Core LG Optimus 4X Arrive in U.S. With Dual-Core Snapdragon S4 CPU?
Will LG's flagship Optimus 4X smartphone, announced at Mobile World Congress late last month alongside rival HTC's One X, with a quad-core Tegra 3 chipset face the same crippled fate like the One X will when it arrives in the U.S.? According to leaked benchmarking results from GLBenchmark, an unannounced LG device with a model number F160L shows that the device is running Android 4.0 Ice Cream Sandwich along with a dual-core Qualcomm Snapdragon S4 processor. The device also shares the 720p HD display of the Optimus 4X along with other similar specs, leading the folks at Pocket Droid to speculate that the device is in fact a variant of the Optimus 4X that may be destined for the U.S. market.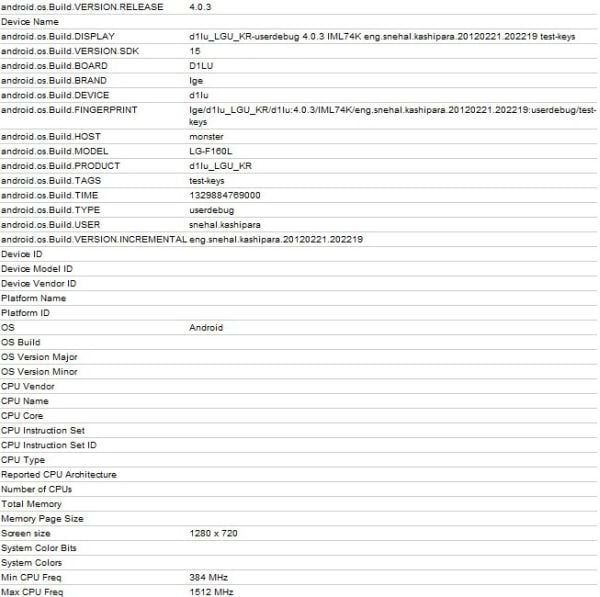 In the past, smartphone manufacturers had to swap out mobile processors for a Qualcomm applications processor due to network compatibility. We've seen this behavior from Samsung in the past with the release of the Samsung Galaxy S II smartphone for T-Mobile's HSPA+ network along with AT&T's network where a Qualcomm CPU was used rather than the Exynos processor on the international version. HTC confirmed that its One X flagship will be stripped of its Tegra 3 brains for an S4 CPU once it lands on AT&T's network due to compatibly with AT&T's 4G LTE network. In fact, when the phone was announced, NVIDIA didn't have LTE support yet and Qualcomm's work with radios and modems gave it an edge.
It's not clear though if this device with the model number F160L from LG will be an Optimus 4X variant for the U.S.