Will Samsung's Galaxy S5 Come with TouchID Rival for Easy Log-In?
Samsung is reportedly chasing Apple's iPhone 5s' TouchID biometric authentication sensor with its own version, which is said to debut in 2014. As Samsung makes two flagship lines of smartphones–a Galaxy S debut in the sprint and a Galaxy Note refresh in the fall–it's still too early to know if the TouchID fingerprint sensor rival would be headed to the company's Galaxy S5 Android phone or a Galaxy Note 4 later in the year.
According to a report on Reuters, biometric technology firm Fingerprint Cards is hoping that Samsung would be using its technology in 2014. In the past, we've heard of rumors that Samsung's Galaxy S5 may use a retina scan technology rather than a fingerprint scanner, though it's unclear how likely such a move is given the advanced technology and costs associated with a retina scanner.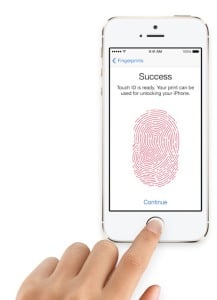 The company predicts that seven or eight firms will be using its technology.
"I think at least seven or eight will launch a phone with a touch sensor in 2014," Fingerprint Cards CEO Johan Carlstrom told Reuters.
Other big firms include LG and Huawei. The company already has existing contracts with Fujitsu, Pantech, and Konka.
Fingerprint Cards had recently introduced new sensors for Android and Windows phones and tablets.
HTC already launched a phone late this year with a fingerprint sensor in the form of the HTC One max. Apple uses AuthenTec, a firm that it had acquired, to provide for fingerprint authentication on its flagship smartphone this year.
In addition to Apple's AuthenTec and Fingerprint Cards, another player in the field is Synaptics, a company best known for its touchpads. Synaptics had recently acquired Validity to capitalize on fingerprint technology.

As an Amazon Associate I earn from qualifying purchases.