Will This Flexible Transparent Display Revolutionize Tablets? (Video)
In the future, technology is always cooler. If you watch enough science fiction, you'll pick up on the fact that our future selves really want to be able to see through our displays.
In addition to transparent displays, the future is also full of flexible displays. I mean, what good is a large transparent display if you can't fold it up and put it in your pocket?
Samsung has put in the time to figure out how to make this future a reality, and shows off what your future phone or tablet could look like. With a flexible, transparent AMOLED display — your phone could also be a tablet.
Check out this concept video from Samsung, which shows off what a device with a flexible transparent display could look like, and more important, what it could do.
Unfortunately this is just a concept video. So we won't be seeing this particular device at CES next month or in our pockets in 2012.
Samsung is reportedly planning on introducing a device with a flexible display in 2012, but these first devices will more likely offer a curved display in a rigid frame, than a truly flexible display like that shown above.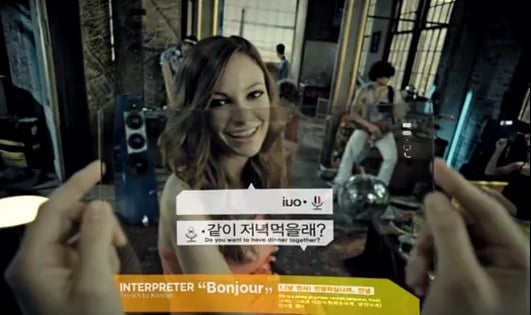 According to oled-info, the type of display shown in this concept video is still years away from reaching devices that you and I can use, but given the faster progress on flexible displays, I'm hopeful that Samsung will keep up the pace and wow us with a real device sooner rather than later.
Samsung has shown off a notebook with a transparent display at CES back in 2010, but so far we haven't seen any real commercial product in this notebook category. Not surprising given the lack of a need for a transparent notebook display.
In a tablet or phone though, you could interact with the back of the device, leaving the front of the display visible for a better gaming or working experience.
Are you looking forward to phones and tablets with flexible, transparent displays?

As an Amazon Associate I earn from qualifying purchases.