Will We See New Vista Drivers and Updates Soon After Nov 30?

I've been quite busy doing real life stuff using the Lenovo Thinkpad X60 Tablet PC since I started walking the bleeding edge and installed Vista RTM on my Toshiba M200. Now that things are evening out a bit, I'm getting back to testing and tweaking and finding out what works and what doesn't on this soon to be legacy Tablet PC (assuming you are Vista bound.)
After coming back to the M200 with Vista RTM installed I'm enjoying working with Vista and looking forward to giving it a try on the X60. (Hopefully tonight.) The M200 indeed performs snappier, but of course that is without a lot of Toshiba's utilities and drivers loaded. Alas, there are still a number of those driver related issues that keep me from full functionality on the M200, and as I've said before, M200 users need to get used to that fact, as Toshiba is not going to support the M200 under Vista.
Although I haven't installed them yet, (and may not-given that things are working well at the moment) Laptop2Go has a new set of NVidia drivers that I've seen some good and some so-so reports about. Suffice it to say, with the drivers I've installed (see this post) now that I can put the M200 to sleep (that just sounds weird) and I can achieve screen rotation through the Mobility Center, I can basically accomplish everything I need to on the M200, except play any video at all through Windows Media Player, and use the hardware buttons.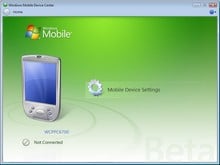 Something I did not have a chance to test until recently is how the Windows Mobile Device Center works with syncing on my PPC 6700. The Mobile Device Center is not included as a part of Vista RTM and in fact is still listed as Beta 3. (Download located here.) Beta 3 did work under Vista RC1 but with issues (it would eventually sync after a few retries) but after downloading and installing WMDC Beta 3 and installing in under Vista RTM, those issues seem to have gone away in my case. I have been able to sync successfully each time on the first try and the process seems much quicker. I'm still puzzled that the WMDC window requires me to manually open it after I've connected, but the syncing behavior works just fine.
Of course that points to the question in the headline of this post. Vista RTM is scheduled to be released to business clients tomorrow, November 30. Will we see a host of new drivers become available immediately, or will they dribble out as we wait for the consumer launch at the end of January? I don't know and don't have any real hints. What I do know is that regardless of how quickly new drivers, updates, and the like appear, those of us on the bleeding edge will be looking ahead to the constant update process. It sure will be nice to not have Beta this and Beta that on a system for awhile.

As an Amazon Associate I earn from qualifying purchases.