Will Windows Phone 7 be Powering Nokia Smartphones?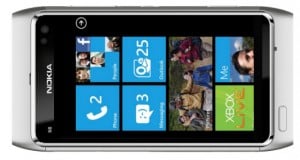 Mobile-Review's Eldar Murtazin, who has been a credible source for Nokia leaks, is saying that Nokia is in talks with Microsoft to expand the two company's relationship with each other. Murtazin says that the talks could result in Microsoft's new Windows Phone 7 line that would be Nokia-branded and sold with Nokia features–hopefully this means awesome camera features and functionality that has been a hallmark of Nokia smartphones.
Given Nokia's recent musing about a Windows Phone 7-like paradigm for Symbian and MeeGo operating systems, a participation with Microsoft would not be unlikely. Nokia design heads have stopped short of praising Windows Phone 7 for its different and novel take on the smartphone user experience lately, and has promised something similar for the company's own platforms in the future.
Also, considering that Microsoft and Nokia already have existing relationships related to apps and to Exchange integration, this would further cement ties between the two companies–both of which are trying to re-gain grounds in the smartphone space in a post-iPhone and post-Android world. A partnership of two historic giants, now befallen to new consumer smartphone leaders Apple and Google, would help the companies regain their smartphone leadership. Also, with Nokia's leadership in the consumer space with strong camera phones, low unlocked pricing, and string build quality, Microsoft could gain a lot more credibility in the international market where Nokia still leads. In the U.S., Nokia can benefit from Microsoft's reputation as the company doesn't have a strong brand presence Stateside.
With new Nokia head Stephen Elop being a Microsoft alum, a partnership wouldn't be unlikely, but the question remains if Nokia really has the resources to support three operating systems vying in the same market space? The company had previously dismissed the possibility that it would use Android by stating that it had invested too much into Symbian. Would a Windows Phone 7 Nokia make sense?
Windows Phone 7 could give Nokia a short-term solution as the company tries to define its long-term plans, however. With a radically different UI than what iOS, BlackBerry, and Android offers, the dynamic Metro UI of Windows Phone 7 could give Nokia a kick start, especially when industry observers are saying that Symbian is dated and lack a fresh feel that Android or iOS offers. With Windows Phone 7 on the company's traditionally great hardware, Nokia and Microsoft could potentially deliver a drool-worthy smartphone with great software and hardware. Hopefully, the marriage of titans, now humbled by their rivals, can produce a competitive product through increased collaboration.
However, given how much this strategy may make sense for both Nokia and Microsoft, MeeGo is close to being finished and is nearing release, and Nokia has just re-gained control of Symbian development. It probably won't make sense for Nokia to offer another platform and another OS. The company has invested considerably in the Qt development environment to attract developers to developing for both Symbian and MeeGo–having a third wheel may complicate the company's culture, its relationships with developers and consumers, and its focus.
Via: UnwiredView