Will You Observe Holy Week with a Gadget Fast?
This week is what the majority of the Christian world call Holy Week commemorating the last week of the life of Jesus before his crucifixion and then resurrection which we celebrate on Sunday as Easter. Some religious leaders are suggesting that believers observe the week with a gadget fast, Ars Technica reports.
The leaders calling for the fast includes the National Council of Churches, the US Catholic Conference of Bishops, and the Islamic Society of North America. The fast is actually more than just gadgets, but a full electronic media fast giving up computers, TV, eReaders, tablets, and smart phones for what they call "Media Fast Screen Free Week" from April 18-24, 2011.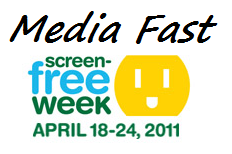 Some leaders are offering suggestions that people can do to get away from tech. The 101 Screen-Free Activities include things like writing a story, reading a real book, playing a game of chess, or learning about nature.
As a pastor I support the idea of believers commemorating the suffering of our Savior with self sacrifice. I often will take part in a food fast on what we Christians call Good Friday commemorating the death of Jesus. So, if you are a believer and like the idea of a media fast, then I say go for it. But let me also suggest the opposite approach with some ways you can actually use technology to enjoy and celebrate your Christian faith.
Read the Gospels on your iPad, iPhone, Android device or laptop – There are dozens of great iOS and Android Bible programs. Many of them have computer programs too. And if you don't want to download the Bible you can read it online.
Watch The Passion of Christ – Mel Gibson's movie is one of the best accounts of the crucifixion of Jesus around. It is not available online at either Amazon or iTunes, but you can get the DVD or Blu-ray versions at Amazon.
Listen to some podcasts from respected preachers – I say respected because I am the first to admit that my faith has some crooks trying to part gullible people of faith from their hard earned dollar. But there are also some fine people who just want to help people and encourage them and they use the web and social media to do so. One of the best is a man named Ed Young.
If you want to fast from gadgets and electronics this week or any time, it is a good thing. It can help you appreciate what we have and also reconnect with family, friends and nature. But technology is not evil and should not be seen as bad in and of itself. Any Christian who suggests otherwise is ignorant of what the Bible teaches.

As an Amazon Associate I earn from qualifying purchases.